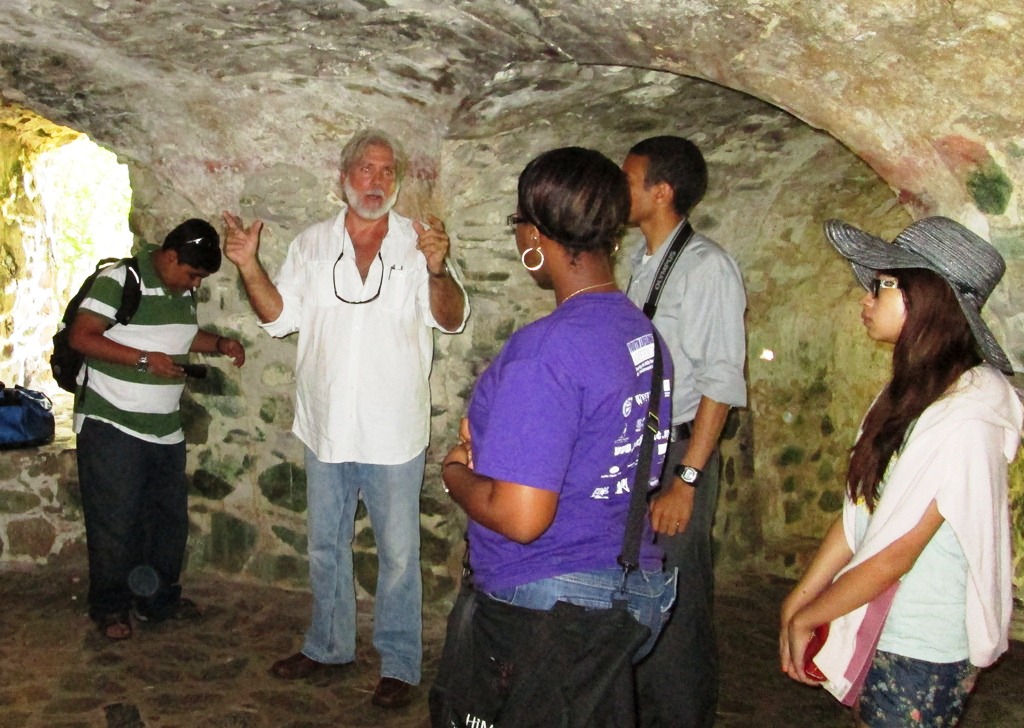 St. John history was the focus Tuesday when 14 students in the V.I. Scholars Program got insights into the island's past from historian David Knight.
"Kids who are aspiring leaders need to understand what history tells them about their past, present and future," said Lincoln Liburd, a St. John resident who recently graduated from Stanford University in California.
This is the second year Liburd organized the young scholars program to give students from St. Thomas and St. John an extra edge on their future. The students are ages 13 to 17.
This year's program began July 29 and wraps up Sunday. The program aims to develop academic excellence, community service, honor, leadership and perseverance in participants.
It's taught by fellow Stanford students and alumni. Lily Steyer, a San Francisco resident who just finished her freshman year at Stanford, was impressed with Liburd's commitment to public service so she signed on to make her first trip to St. John.
"Lincoln was not just talking about it but really living it," she said.
With a passion for public service that equals Liburd's, Steyer is teaching entrepreneurship and innovation.
Several of the students visiting the historic Estate Catherineberg in V.I. National Park were enthusiastic about their experience.
Marcus Norkaitis, a 13-year-old All Saints School student from St. Thomas, signed up because he wanted to get a broader view.
"And I wanted experience in how to conduct myself as a leader," he said.
Nila Blyden, a 13-year-old Charlotte Amalie High School student who makes the trip to St. John from her home on St. Thomas, wants to widen her horizons.
"I'm trying to be excellent," she said.
St. John resident and Eudora Kean High School student Machoy Valmond, 16, gave kudos to the public speaking classes.
"It will help me be ready for college," he said.
Antilles School student Nia Gumbs, 14, decided to participate in the program to help her prepare for college. She said she's found the speakers very interesting.
Naren Advani, 14, who attends Montessori School on St. Thomas, said he wants to learn everything he can to get ready for college. "Everything is amazing," he said.
After visiting Annaberg Plantation last week, their first stop Monday was Catherineberg.
"This estate was rebuilt in the late 1700s or early 1800s by the Heyligher family of St. Croix," Knight began, leading the students on a tour under the windmill.
The windmill with a room under it is the only one of its kind in the Virgin Islands. Knight suggested that the room under the mill served as a chapel and a place of refuge because the planters feared a slave uprising.
Alas, the Catherineberg plantation was not a big success because it didn't have access to the sea so the planter could sell his goods, Knight said.
Speaking more about St. John plantations, he said that planters paid taxes to the Danish government in cotton or sugar, not cash. The government then sold the products back in Denmark.
"Many of the plantations only grew enough cotton or sugar to pay taxes," he said, adding that livestock, mainly sheep, was the main business.