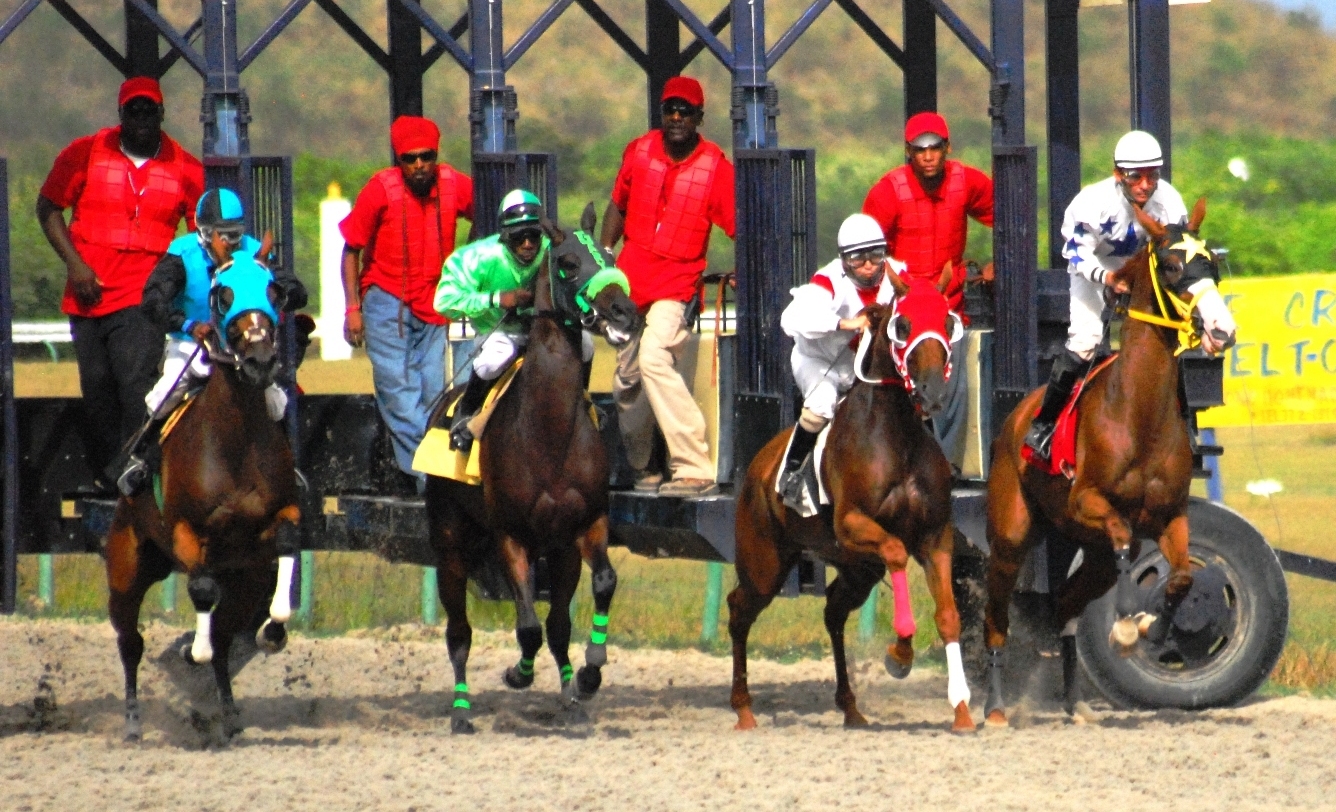 The horses will be off and running again on Sunday as TRAXCO presents a 10-race midsummer card at the Randall "Doc" James racetrack. Ten horses will be making their debut, including two in the featured 7-1/2 furlongs ninth race.
Making their debut in Sunday's feature will be Bambi Bound and Congo. A look at Bambi Bound's recent stateside record will show that he has been sprinting for most of his career, but his local connections may have him going longer. The Congo, on the other hand, has been going long and shows one victory in eight starts for 2012. Both of these newcomers will be in tough against some of the best in the Virgin Islands.
The highly touted Slevin returns after a break from the races and will be looking to stake his claim once again as best in the territory. Carse, a former champ, looked good last race day and will also be looking to move forward off that effort. Twisted Dream of St. Thomas will be looking to upset the locals, while Expect Smoke, stepping up in class, will try to pull a shocker.
The rest of the day's card:
Race 1 Class N-6 C/G –M/F 5F, $4,700
1. King Yabo
2. Mama Linda
3. Flavaz (Debut)
4. A Smile at the Storm (Debut)
5. Hilary Boss
6. Fast Return
7. Polo Matches
Race 2 Class I-5-M/F & I-6-C/G 6 F, $4,700
1. Shamrock Classic
1A. Spitfire Red
2. Rey De los Ricos
3. I Confess
4. Robadorable
5. Myturntorock
Race 3 Class I-5 C/G 6 F,$5,500
1. Separate Bill
2. A Bit Of Madness
3. Joyful Minister (Debut)
4. Neerly Nasty
5. BL's who's who
6. Stop Playing
7. Simon Sez Run (Debut)
8. Big Thunder Reflec
9. Mr. Ricochet
10. Winning Actor
Race 4 Open V.I. Bred M/F/-C/G 6 F, $5,800
1. Express To Cali
2. Creation Rebel
3. Master Deposit
4. Cruzan Emerald
Race 5 Class I-3-4(M/F) 6F, $5,400
1. Apron Dance
1 A. Devil's Revenge
2. Lost Explorer
3. Cherokee Neesh
4. Dream Appeal
5. Dona Gongui
6. Paul's Gift
Race 6 Class I-3NWRS &I-4 7 ½ F, $5,700
1. Full House project
2. Johann Slew
3. San Viron
4. What's Poppin (STT)
5. Going Blue
6. Thanks McGivern
7. Heats on Fire
8. Black Machine
Race 7 Class I-1-3 (M/F) 7 ½F, $5,700
1. Watch your back
2. Destiny's Arrival
3. Rasta Queen
4. Holy Barbara
5. Dance Mistress
6. Goodevening Officer (STT)
7. Quilla
Race 8 Class I-2-3 C/G, 7F, $6,300
1. Beantown
2. Mr. Unitas (Debut)
3. Political Reporter
4. Green Sand
5 Drink at last Call
6. Black Jack Bob
Race 10 Class N-5-M/F-C/G 6 F, $5,400
1. Diamond Colony
2. Yahboribos Weapon
3. Miss Kosi
4. Omayra's Pride
5. Tru Gold