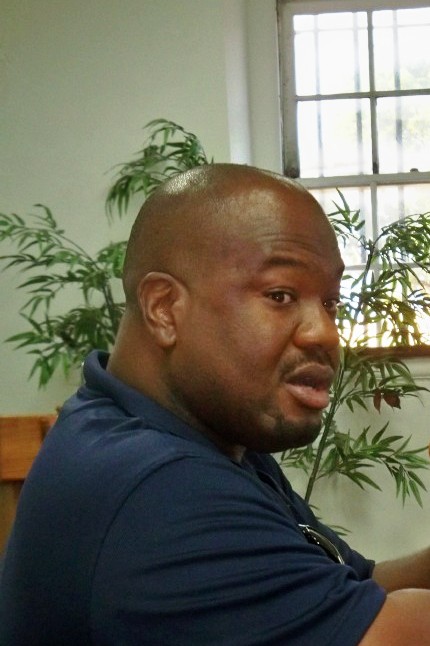 Seeing angels has to be a good sign. And the sightings of more angel fish returning to the underwater trail at Buck Island Reef National Monument might be a sign of a recovering fishery.
However, Resource Management Chief Zandy Hillis-Starr of the National Park Service urged caution to the 20 people who attended her presentation Thursday night about the fishery. She said that after eight years of doing twice-a-year fish surveys, there is reason for hope, but that it is also too early to tell.
The group was gathered in the old Danish Guinea West India Company Warehouse/Slave Market Building in the National Park in Christiansted as part of the Buck Island 50th Anniversary 2012 Lecture Series, where Hillis-Starr gave the presentation, "Buck Island Fisheries: Are Fishes Recovering?"
Roy Pemberton, director of V.I. Division of Fish and Wildlife, told the group that it takes 15 to 20 years to really determine the impact of a protected marine area as it takes 15 years for fish such as grouper to mature to a healthy size.
The original park, just Buck Island and a little bit of water around it, became protected in 1962. It was later expanded.
Hillis-Starr emphasized, "We are not there yet," but she went on hopefully stating, "We can stop impacting our resources. We can say no."
She said that decimating the fish was not only a problem for fishermen, but would be a problem with the tourism industry too.
"If you take away the fish from the underwater trail, you take away from my experience of swimming it," she said, adding that 80 percent of the visitors to St. Croix make a visit to Buck Island.
Hillis-Starr said that the effort to protect an area only containing the 880 acres failed because it did not include whole habitats. The protected area has since been expanded to 19,015 acres, and she showed that this expanded protected area only covered 7 percent of the shelf around St. Croix.
She also pointed out that Elkhorn coral, which are located in the Buck Island protected area and various areas around St. Croix, has been listed as an endangered species. "This is our spotted owl. It is in our backyard," Hillis Starr said.
She added that the problem of fishermen poaching in the protected area has been minimized recently because of enforcement. Park Superintendent Joel Tutein, who was in the audience, said more than 50 people have been prosecuted for fishing in the protected area.
The next lecture in the series will be Sept. 13 – "The Legacy of the Concessions Program at Buck Island."
On October 11, the lecture will be "Ups and Downs of Buck Island's Coral Health."
And on Nov. 8 it will be "Buck Island's Ancient Peoples – Seen and Unseen."