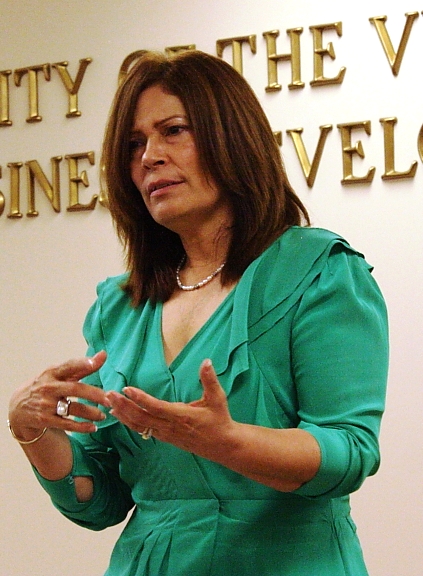 Maria de los Angeles de Jesus, the newly appointed deputy district director of the Small Business Association's Puerto Rico and U.S. Virgin Islands office, met Tuesday with banking industry representatives on St. Croix. De Jesus told them that SBA-backed loans have been declining in the territory over the last few years and she was committed to reversing that trend.
The SBA is a federal agency that partners with banks to provide favorable loans to small businesses. The SBA does not loan money directly, but will guarantee loans offered by third party banks.
During the last fiscal year, the SBA only guaranteed five loans through Virgin Islands banks for a total of $435,000, de Jesus said. Over the last 10 years the agency has averaged between $1 and $2 million of loan guarantees per year, peaking in 2008 with 13 loans totaling $4,791,000.
De Jesus, who has only been on the job for a week, said one of her top priorities was to spark more small business lending in the territory.
"We believe we can do very good here. We need to take the opportunity to start where we're most needed," she said.
At the meeting were representatives of the USDA Rural Development Program, the V.I. Economic Development Authority, Banco Popular and Scotia Bank. De Jesus asked them if they could explain why so few SBA loans had been processed in recent years.
The bankers responded that they did not have anything against the SBA program, but that many people on St. Croix seeking small businesses loans simply do not qualify. They complained that many applicants cannot supply their financial information for the previous three years and that many who can show consistent losses.
They also pointed to the overall weakened state of the territory's economy, saying they were concerned about whether many applicants would be able to repay the money they were seeking.
Earlier in an interview, de Jesus was asked if she had any specific plans for boosting small business on the island given its current economic situation. Specifically she was asked about Gov. John deJongh's claim that electricity prices may increase 20-25 percent at the beginning of next year.
De Jesus said she had not yet formulated a strategy, but that loans for businesses to implement renewable energy would make sense.
Carl Christensen, senior area manager for the Virgin Islands U.S. Small Business Administration, said he had been researching such a program, but it was not yet in place.
De Jesus emphasized that this was a fact-finding trip and that her commitment to working with the territory would continue.
"Since this is our first visit, we cannot touch every item, every issue here," she said. "But I plan to be here again more frequently than you can imagine."
To the bankers, de Jesus asked for cooperation. She encouraged them to contact her office and tell her what they needed in order to make small business lending work in the territory.
"I'm really interested in bringing our portfolio to what it was five or six years ago," she said. "I know that it is a process—I've only been here for a week—but I'm committed to assist you."
Those interested in SBA loans and programs on St. Croix should contact the Small Business Development Center located in the Sion Farms shopping plaza. Those on St. Thomas and St. John should contact the SBDC at 8000 Nisky Center, Suite 720, on St. Thomas.