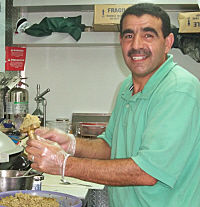 For many years, Middle Eastern culture has had a strong presence on St. Croix. Now everyone can get a taste of that culture at a new food trailer in La Grande Princess. In May, Khaled Hasan saw his dream come to fruition when he opened the windows of the Darna Grill food vending trailer.
Hasan says darna means "from our home" in Arabic – like "home-cooked" food in English.
"There were no Arab restaurants here and some people were asking me to open one," Hasan says. He has been catering and delivering food for special occasions for the past few years on St. Croix. In fact, he is delivering food in the evening to the mosque in Hermon Hill for the breaking of fast during the holy month of Ramadan.
The food preparation and cooking are done in a food vending trailer made in Florida to Hasan's specifications. The van is painted red, yellow and green with images of Middle Eastern dishes painted on it.
Hasan says the food is all natural and made by him and his wife, Rima Hasan. He adds that local vegetarians like Middle Eastern food.
A specialty of Hasan's is his shawarma, served on a plate or as a pita bread sandwich. Shawarma is hand-layered slices of beef/lamb or chicken stacked on a vertical spit and slowly grilled all day. He serves the chicken with a yogurt, garlic, cucumber and a dill pickle sauce. The beef is served with a sauce of sesame seed, cucumber and onion.
It is the Middle Eastern equivalent of fast food, served fast but not cooked fast.
Hasan's favorite dish is falafel. The seasoned batter for the falafel is made from crushed chickpeas. He has a form he makes each falafel on, then slides it into hot oil. It is dark brown, crispy and crunchy on the outside and moist inside, like a fritter. He serves it on pita bread with seasoned tahini, tomatoes, dill pickle and cucumber.
Foul mudammas, a mashed fava bean dish, is on the menu as is kibbi, a deep fried cracked wheat ground beef or lamb mixture. He serves Greek and Turkish salads, and the usual Middle Eastern baba ghanouj and hummus.
Tasty stuffed grape leaves called dawaly are a special treat on the menu and are the only dish that can be made ahead. Hasan says everything else is made fresh to order nothing is frozen or shipped in.
"Darna Grill is darna good," says local radio personality Jerome Agean. "It is a great new addition to cultural cuisine on St. Croix."
Hasan, 43, says he was trained in the culinary arts in the restaurant and hotel industry in Palestine and Jordan. Hasan, Rima and their children moved to St. Croix six years ago. He said he came to St. Croix because he had a lot of family members here.
Rima Hasan occasionally helps her husband out from home with the food preparation, and another local woman serves when he has to run errands.
"This is something I've been thinking about a long time," Hasan says. "I am doing it step by step, a little at a time."
He pointed out a deck that is almost complete where he will set up tables and umbrellas. He says he will be serving more Middle Eastern sit- down dinners buffet style on the deck.
"My hope is that when people try the food they like it and continue to return again and again and tell others about it," Hasan says.
The Darna Gill trailer is located right next to the new Gas City gas station. At this time, Hasan is only accepting cash. Call 642-6005 for more about the grill or to inquire about catering for parties or to set up a special cultural dinning event. Darna Grill is open Monday through Saturday from 11 a.m. to 8 p.m. and from 2 to 7 p.m. on Sunday.