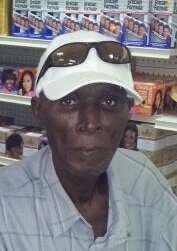 Alexander Emile Sr. also known as "Zanda," age 67of Estate Castle Burke died on Wednesday, July 25, at Gov. Juan F. Luis Hospital. He was 67 years old.
He is survived by his spouse, Velma Emile; daughters: Alexandra, Rosemarie, Jessica, Emilia, Angela, Sophia and Sandra Emile, Annmarie Richardson, Natalie, Samantha and Katrina Hodge, and Nancy Caleb; sons: Alexander Jr., Stephen, Shepherd and Ricky Emile, and Jorge L. Ortiz; grandchildren: Aniyah, Armann, Anthony, Anneisha, Andrei and Ashley Richardson, Dexter and Malakiya Ryan, King David Short, Errol Jr., and Daniel St. Jean, Sheldon Jr and Je'shel Williams, Gabriel Donelly Jr., J'nelly, Sharon, Bianca and Ieshia Emile, Stephen, Junie and Chrissy, Maltilda D. Ortiz, Jorge L. Ortiz Jr., Yesica M. Ortiz and Juliana D. Ortiz; great-grandchild, Jahdiel Luis Emile; and sister, Theresa Emile.
He is also survived by brothers: Hubert Emile and Joannes Francois; sisters-in-law: Lucy Belle Matthew and William Eusebe; brother-in-law: Victor Belle; niece: Gina Emile; nephews: Hubert Emile Jr and Daniel George; special friends; Sophia Benjamin and family, the Cole family, Alison Sergeant and family, Annie Mitchell and family, Virgina Durand and family, Jeroma Prince, Coconut's Bar family, Edna Santiago, Carmen Ortiz, Heather Williams, Nico, St. Croix Construction family, St. Lucia Mothers and Fathers Group, Godwin Francois, Christopher Henry, and Francis and Dorothy Daniel, Rita Jacob, Piper and Menz; as well as many other relatives and friends too numerous to mention.
A viewing will be held at 9 a.m. and a funeral service at 10 a.m. on Saturday, Aug. 4, at Church of God of Holiness, Peter's Rest. Interment will follow at Kingshill Cemetery.
Professional Funeral Services Entrusted to: James Memorial Funeral Home Inc. Located at 6AA La Grande Princesse Telephone: (340) 718-8663 Fax: (340) 718-8661