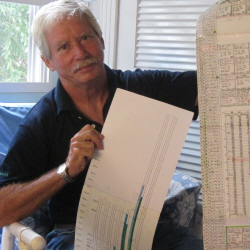 Former St. John resident Dave Teichmann, 60, is back on the island working as an odd-jobs man to raise funds for Tigre Salvaje, a wildlife refuge he's started on the Burica Peninsula in Panama. It's located on the Pacific Coast just 15 minutes from the Costa Rica border. His is a bare bones operation trying to save turtles and monkeys from poachers and dogs.
"I'm trying to slow the extinction process," he said.
It's an uphill battle, made more difficult in part by lack of cooperation from Panamanian government officials who he said were only interested in lining their pockets. "They make as much as they can while in office," he charged.
When he started building Tigre Salvaje eight years ago, he said the Panamanian government promised him a road if he would build a hotel because his dozen acres sit beachfront in a zone designated for tourism. He complied with their request to build the hotel and install electricity to the tune of about $500,000, but he's still waiting for the government to put in the road.
It's a very rural environment without most of the amenities available in the Virgin Islands, but the hotel does have running water.
The rare hotel guests have to walk 35 minutes from the nearest town to reach the property. Instead of paying guests, he and his wife, Vielka, host school groups in hopes of starting the environmental education process at a young age.
"It's a third-world country and there's no environmental education," Teichmann said.
He gets volunteers willing to make the 35-minute walk, but he still needs more. The volunteers pay $35 a day for the first week and $25 a day for subsequent weeks. The fee includes three meals and room. Their jobs includes patrolling the beach at night to keep the poachers and dogs away from nesting turtles as well as working on reforestation projects because most of the trees were cut down. If they speak Spanish, they can also do education programs in the schools.
Teichmann and the volunteers relocate the turtle eggs from the beach nests to incubators to save them from poachers and dogs.
"Last year, we released 14,000 baby turtles," he said.
Most of the turtles are olive ridleys, with a few green turtles among the mix. He said in the past seven years, only two hawksbill turtles showed up to nest.
Tigre Salvaje is also home to three species of monkeys. Teichmann said it has about 25 redback squirrel monkeys, 35 white faced monkeys and 30 howler monkeys.
A spotted leopard also lives on the reserve.
Teichmann moved to Panama because he felt he couldn't make a difference on St. John. He said he lacked a college degree that would give him environmental credentials, the island already has plenty of "do gooders" and V.I. National Park staff were very involved in environmental efforts.
He said that isn't the case in Panama, and despite the obstacles, he can make a difference with Tigre Salvaje. The name means wild tiger in Spanish, and Teichmann said he plucked it out of the air while in his attorney's office filing out incorporation paperwork.
Rafe Boulon, chief of resource management at St. John's national park, said Teichmann has made an incredible effort to save species such as the turtles.
"David has made it his mission to protect turtles," Boulon said.
According to Boulon, people used to eat turtles in the Virgin Islands. He said that gradually after the passage of the federal Endangered Species Act in 1973, the practice ceased. He said that although Panama has rules and regulations to protect wildlife, enforcement is lax.
Born in St. Louis, Mo., Teichmann went off to college before the U.S. Army drafted him during the Vietnam era. He served in Germany, came home and went back to college. He didn't finish school, and went on to kick around doing this and that in construction-related jobs. At one point he served as a wilderness guide in Canada.
He was gored after he got to close to a friendly-looking buffalo in Missouri. While recovering, he moved to St. Thomas just after Hurricane Hugo hit in 1989 to repair his brother's boat. He stuck around, working various construction jobs first on St. Thomas and then on St. John until he decided he wanted to make a difference.
Teichmann moved to Panama about a dozen years ago, but came back to St. John in May because he was broke and couldn't continue to fund Tigre Salvaje. He's banking all he can make doing odd jobs to continue funding the reserve. He plans to return to Panama sometime in August.
"I can't give up," he said.
For more information, visit www.tigresalvaje.com. The website is out of date and Teichmann needs someone to keep it up because he has no Internet access. A visitor made a YouTube video that tells more about the project. Tigre Salvaje has also been reviewed on Trip Advisor. To reach Teichmann, call him while he's in the Virgin Islands at 201-8965 or email him at davidteichmann@yahoo.com.