Murder suspect Sama Chaka Quinland, 21, was arrested about 12:30 p.m. Friday at the LBJ Housing Community on St. Croix after a citizen tipped off police to his whereabouts.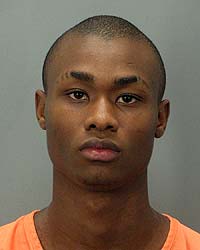 He was arrested without incident, the Police Department said in a press release issued Friday. Quinland was featured in March on "America's Most Wanted," a television show that profiles fugitives from justice and assists law enforcement in their capture.
Quinland was wanted in Greenville, S.C., on charges of robbery, armed robbery, and first-degree murder.
Police Department spokesman Melody Rames said she had no information on how Quinland came to be on St. Croix.
According to the information listed on the "America's Most Wanted" website, Quinland regularly visited dating websites for men seeking men and that is how in July 2011, he connected with his victim, 20-year-old college student DeAndre Smith. Police in South Carolina know that Quinland and Smith met. The victim was later found shot and stabbed to death in his home. Items stolen from his home were traced to a pawn shop.
Just hours before police found Smith, Greenville firefighters were called to a car fire underneath a remote overpass. Once they ran the vehicle identification number, they learned it was rented by Smith. Police say Quinland torched the car in an attempt to destroy forensic evidence connecting him to Smith but they found plenty at Smith's apartment.
The website indicates Quinland had an extensive and violent juvenile record.