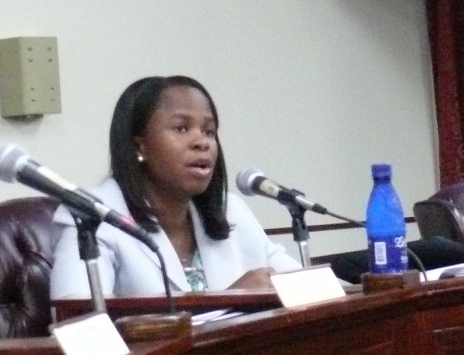 Despite being the most affordable new homes on pricey St. John, half the 24 Calabash Boom homes built through the V.I. Housing Finance Authority remain unsold, draining vital resources from other home-ownership expanding projects, the authority's executive director told senators during budget hearings Tuesday.
Adrienne Williams said the homes, which were completed in 2010, cost $425,000 each to build, have a list price of $295,000, and a qualifying first-time home buyer can get one for as low as $125,000.
Despite those prices, the slow pace of sales was already a serious concern during budget hearings last year, when Williams reported only six of the 24 duplex units in 12 buildings had sold. While that number has now doubled, sitting on the units prevents VIHFA from using the sales revenues to finance new projects and forces it to incur a lot of expenses it had not planned upon, she said
"It is of the utmost importance that these units are sold since the authority is covering all fees and costs associated with the unsold units," she said. The costs, including maintenance, taxes and utilities, have already run up to many tens of thousands of dollars, Williams said.
She said the financial downturn has made it much harder for many families to afford homes, even with VIHFA help, which is making many of its home-ownership programs more difficult. With Calabash Boom in particular, part of the problem is potential St. Thomas purchasers have been concerned about getting to and from work on St. Thomas if they moved to St. John, "coupled with the fact that people on St. John often have family land and prefer to build there," she said.
The general economic circumstance, coupled with the Hovensa partial closure, has caused lending institutions to become increasingly conservative "and thus developers and contractors are experiencing immense difficulty in finding financing for new projects," Williams said.
Nonetheless, the VIHFA has seen some progress in creating housing opportunities over the last year, she said.
On St. Croix, 19 of 20 lots in the Mount Royal Vistas subdivision in Hermon Hill have been purchased and over 40 percent of lot owners have begun home construction. In Bonne Esperance, Northshore Partners was given the contract to develop 66 single family homes on the remainder of an 80 acre plot.
The project has had "tremendous delays" because the developer has been unable to secure financing, she said. But VIHFA used federal stimulus funding to complete the design of the subdivision, pave many of its roads and prepare it for final permitting approval.
And VIHFA awarded contracts to two small contractors to build a dozen homes – six each – in Estate St. George. Six will be three-bedroom, two-baths and the other six will be two-bedroom, two baths. St. George is developer-financed and the homes will be priced between $180,000 and $205,000, Williams said.
Several St. Thomas projects have started, including:
– Whispering Hills, a 100 home development on 20 acres in Estate Donoe, with sales prices from $245,000 to $257,500, where the developer has secured financing and begun site work. These homes will have solar water heaters, thanks to a grant from the V.I. Energy Office.
– Estate Mariendahl, six three-bedroom units with prices from $255,000 to $278,000.
– Estate Fortuna, four two-or-three-bedroom units and three lots, with the homes selling at $225,000 to $275,000.
Among its many other activities, VIHFA also oversaw the construction of 62 new affordable rental units in Altona and Grandview Apartments, and another 18 units are under construction. Demolition of the Hospital Ground Apartments is under way in preparation for 54 new units. And the Profit, Campo Rico and Staabiland apartments were restored to "decent safe and sanitary housing, she said.
Williams was before the Senate Finance Committee to discuss her agency's fiscal 2013 budget.
The VIHFA is requesting an appropriation of $1.98 million for 2013. Of that, $670,000 is for the Housing Finance Authority's operations; $455,000 for the Community Development Block Grant program; $406,000 for operating housing formerly under the control of the V.I. Housing, Parks and Recreation Department; and $450,000 for water bills for the housing under its control.
Along with the government appropriation, VIHFA anticipates receiving $510,000 in administrative CDBG fees; $425,000 in mortgage payments and $100,000 in lease payments; $196,000 from house sales; $430,000 from land sales; and an array of smaller receipts, for a total budget of $4.5 million, according to the Legislature's post audit. Salaries and benefits account for $2.8 million of that budget.
Aside from its own budget, VIHFA oversees millions of dollars in federal grants for emergency shelter for the homeless, improvements to public housing, mortgage buy-down assistance and other federal housing initiatives.
No votes were taken at the information-gathering hearing. Present were Sens. Carlton "Ital" Dowe, Ronald Russell, Shawn-Michael Malone, Craig Barshinger, Patrick Sprauve, Nereida "Nellie" Rivera-O'Reilly and Terrence "Positive" Nelson.