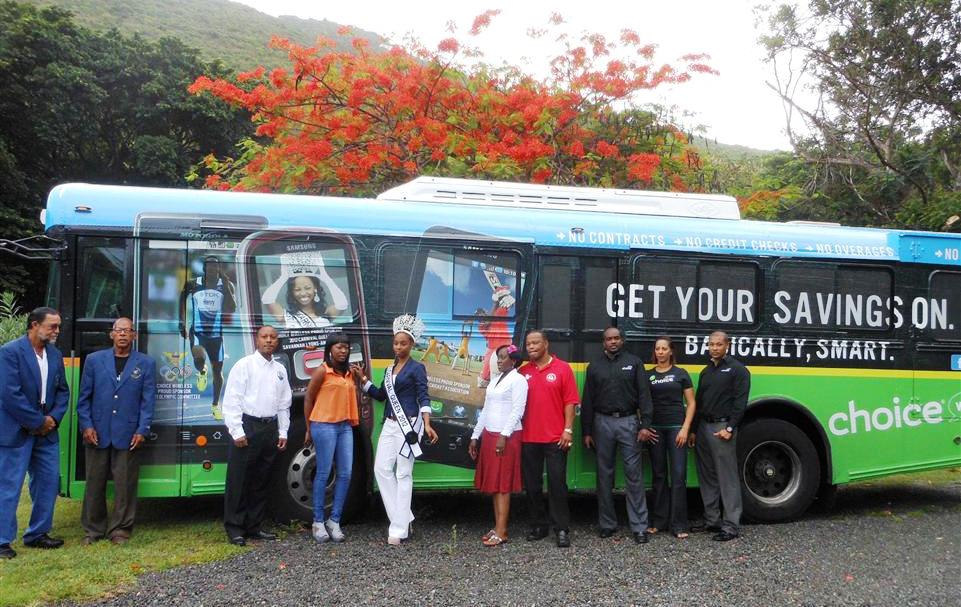 In a brief, benevolent moment Thursday morning, the heavens dried up just enough to allow the debut of VITRAN's new moneymaker "wrapped" in bright shades of aqua blue and yellow.
The handsome eye-catcher, VITRAN bus 55, pulled into the Reichhold Center parking lot to display itself before Public Works Commissioner Darryl Smalls, St. Thomas Cricket Association officers, Carnival Queen Savannah Lyons-Anthony, soca artist Rudy; Olympic Committee representatives, and, of course, Choice Communications executives, whose logo the bus sports. In fact, bus 55 is now "the Choice bus."
Smalls was clearly delighted at the debut. "It's very exciting to see the reactions of people on street at seeing the bus," he said.
The new bus operates on No. 6 Old Tutu, St. Thomas's busiest route, from the west end to Tutu Park Mall.
While many government agencies are suffering from shrinking budgets in the current economical climate, Smalls noted that this project is bringing the department much-needed dollars to offset its costs. He said the project is something he has been working on for some time.
"Bus advertising in the states provides municipalities with thousands of dollars in extra revenue," Smalls said. "That revenue is something we can use to offset anticipated rises in gas prices and help us to hold the bus rates at current levels."
Smalls said more buses are on order in the states, and he spoke about the unique specifications for island buses. "Because we drive on the left, and because we have so many hills, it's more difficult than ordering a standard bus," he noted. He said the new buses will be equipped to accommodate the advertising.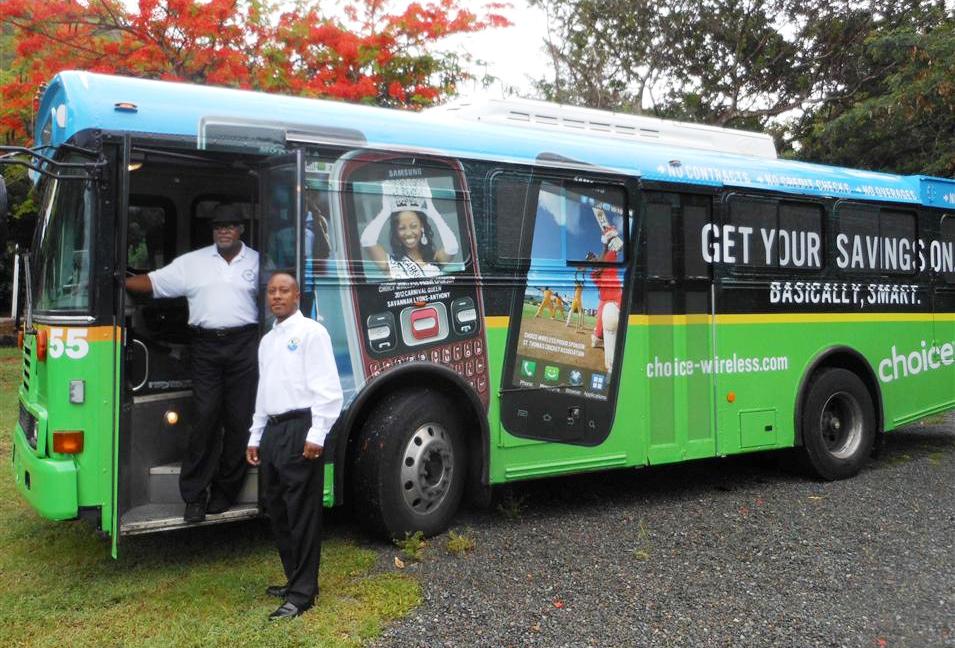 The bus has graphics depicting Virgin Islands track star Tabarie Henry, now competing in the 2012 Olympics; 2012 Carnival Queen Savannah Lyons-Anthony; Cricket players; and nationally recognized soca diva Rudy. Lyons-Anthony and Rudy were on hand personally to greet their likenesses, while Victor Synder and Adeline Alexander represented the Cricket association, and Olympic Committee veterans Leonard Bonelli and Angel Morales spoke for Henry.
Stepping off the bus Thursday morning, after its journey from the VITRAN terminal, Joey Hamilton was as excited as a kid with a new toy, which, in a manner of speaking, he was. Hamilton is account manager for MLB Creative, which Smalls hired to oversee sales and application of the graphics on the buses.
"Wow," Hamilton said, "coming here was something. People were stopping in the street just to look at us." He said hopefully the program will be expanded to St. Croix.
Now, about that "wrapping." This is the seemingly miraculous process by which an ordinary-looking object is covered in new dressings, creating a new persona.
And, Hamilton said, in the case of ordinary old bus 55, the transformation to star of the fleet took just three days.
"We hired Mad Max Signs for the work," Hamilton said. "They started last Friday and worked through the weekend. "We had it on the line on Monday and Tuesday, and pulled it off yesterday for the finishing touches. We're here so early this morning to get it back on the road."
VITRAN operations manager Steve Monsanto said, "We were able to see the entire transformation. When the bus was finished it looked like it had just come off the assembly line."
Smalls takes pride in the project. He said, "Seeking funds from the private sector through advertising will help us to continue operating at a level that allows us to provide quality service and carry out our mandate to maintain the territory's infrastructure and transportation system."
Before the rains started, VITRAN supervisor Atkins Guishard, who had been patiently waiting, got his bus in gear and took the shiny new star away from center stage and off to route No. 6, Old Tutu.