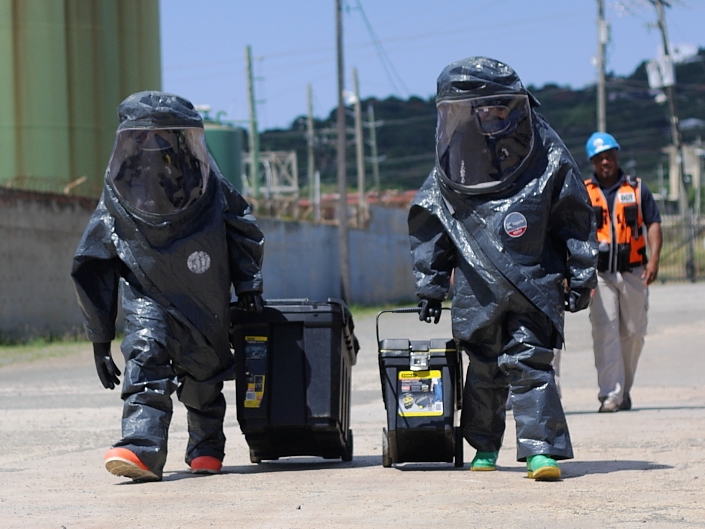 What would happen if a chemical or radiological weapon was found at the WAPA power plant? A V.I. National Guard training exercise Thursday simulated just such a disaster.
Twenty soldiers from the 23rd Weapons of Mass Destruction Civil Support Team deployed to WAPA's Richmond plant to investigate a mysterious black bag found inside the facility. Soldiers in HAZMAT gear probed and scanned the bag with an arsenal of devices and then returned to their base camp where they underwent thorough decontamination procedures.
Facilitators from U.S. Army were on hand to grade the soldiers' performance every step of the way.
The civil support teams are small groups of soldiers whose mission is to coordinate with local officials during emergencies concerning the intentional or accidental release of chemical, radiological or biological agents. Soldiers work to identify the threat and then advise authorities on how to keep the public safe.
There is at least one team assigned to every state and territory. The 23rd CST, based on St. Croix, covers all of the Virgin Islands and can deploy anywhere in the territory within 90 minutes.
Soldiers in these teams are all certified HAZMAT technicians and receive close to a thousand hours of specialized instruction. Thursday's simulation was a test to ensure that 23rd CST was up to snuff on their training.
"We want to make sure that if something does happen anywhere, we're prepared and ready to do our part," said Jay Norris, the chief evaluator.
During the simulation, Norris was role-playing as the Virgin Islands' chief of police. Captain Aesha Rivers, commander of the 23rd CST, was stationed in the command center with him, listening to reports from her soldiers over her walkie-talkie and advising Norris on which neighborhoods should be evaluated and which roads should be closed.
Rivers said her team would meet with the evaluators the next day to go over what went right and what went wrong.
"There won't be a lot of 'what went wrong' for the record," she said. "You can write that down."
Norris shared her optimism, saying that the past five times the team had been tested, they had not encountered any serious issues. Still, he said, he would be thorough in his critique.
"We don't want to have any mistakes," he said. "So I'm going to be very hard on her. If she fails to dot an eye, she's going to read about it."
The unit's evaluations are considered internal documents and will not be released to the public.