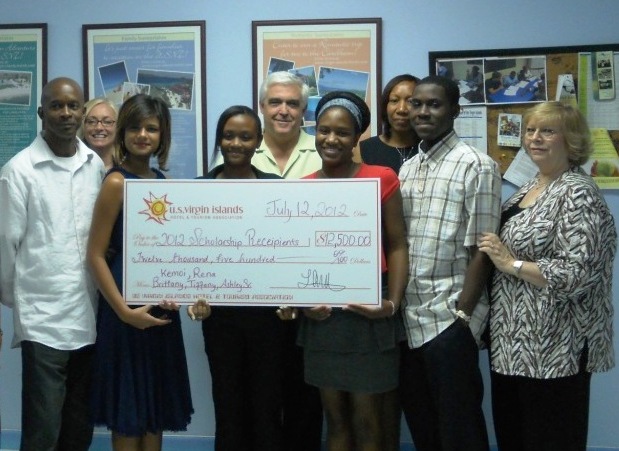 Five students pursuing degrees in hospitality were awarded scholarships of $2,500 each from the V.I. Hotel and Tourism Association at a brief ceremony Thursday morning at the HTA office. Hospitality leaders congratulated the students as they prepare for the next step in achieving their goals.
Five scholarship winners this year was a break from the norm, as the organization typically awards only two candidates.
"We were told only two or possibly three would be getting a scholarship," said Susan Warren, HTA board member and vice president of strategic initiative at Leeward Islands Management. "We're so excited to see five. The quality of applications was outstanding."
Lisa Hamilton, HTA president, noted the difficulty in trying to choose only two to three candidates. And after collecting more than $30,000 in donations this year, the HTA board decided to award five students.
"This is really important for us because we have the funds this year to be able to award the top people that applied," said Hamilton.
This year the group also decided to open the program to nontraditional students continuing their education.
Ashley Allen, who completed high school almost two decades ago, has worked in hospitality for 20 years and will be attending the University of the Virgin Islands in the fall. "This is something that I needed because I've been in hospitality. I can get my bachelors and advance forward. I'm already enrolled and everything," Allen said with a smile.
Kemoi Charles, who will be attending Lincoln University in Pennsylvania this fall, said, "I was trying to be as perfect as possible with my application, so when you receive a letter, I was so relieved. I want to give back to community."
Richard Doumeng, HTA board member and president of the Caribbean Hotel and Tourism Association, said, "These young men and women are the best. As the world has changed, so have the needs of the industry. A diverse area of expertise is needed."
"One of the great things about the UVI program is it's very heavy on internships and fully engaged with HTA, so they get serious work experience under their belts by the time they graduate," Doumeng said. "The hotel industry and university are working together for the first time in a real meaningful way."
Hamilton noted that most of the scholarship funds are raised through donations, a silent auction and at HTA's annual Destination Symposium. The scholarship project has also recently achieved 501(c) status, allowing more groups to donate as funds will be 100 percent tax deductable.
The Education and Training Scholarship program began 20 years ago when HTA decided to aid students in the territory majoring in business administration or management. In recent years, the program has expanded, offering funds to students attending UVI and other approved schools in the Caribbean or on the mainland.
Students must also meet certain qualifications, such as graduating from a high school in the territory, achieving a grade point average of 2.5 or higher, completing an eight-week internship with HTA and, most importantly, a desire to work in the hospitality industry, said HTA manager Nicole Friday.
"This is the one scholarship in my field, so I'm very happy and hopeful," said scholarship winner Tiffany James, who will attend Bethune-Cookman University in Florida in the fall.
Speakers encouraged those present to remind students of their options for scholarships and to remind businesses and individuals to continue donating to locally beneficial program.
For questions about the scholarship or to donate, please contact Hamilton or Friday at 774-6835.