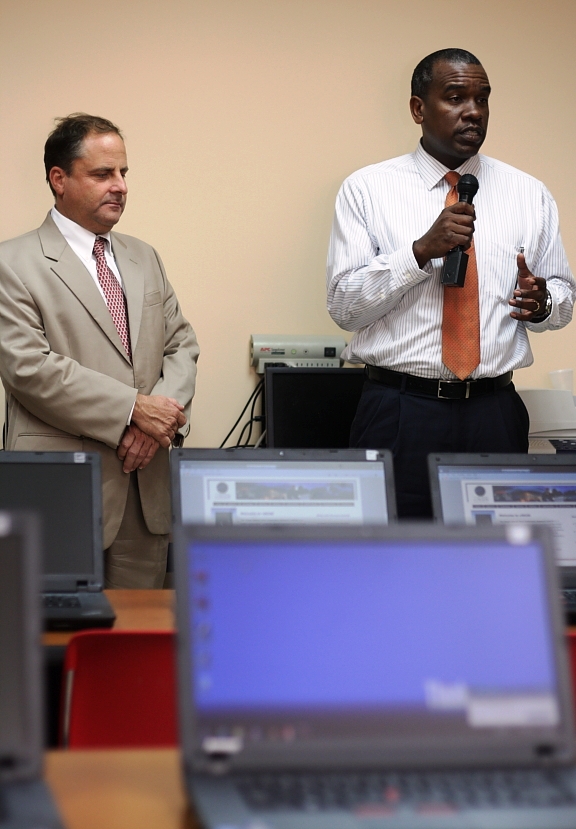 Every Virgin Island resident will soon have access to free computer jobs training, according to representatives from the Virgin Islands Next Generation Network. Thanks to a federal grant, public computer centers are currently being installed throughout the territory where residents will be able to take classes ranging from basic computer literacy to certification courses on complicated software such as Cisco and Linux.
At a press conference at the offices of the Department of Labor on St. Croix, viNGN representatives showed off one of their new centers.
Fifteen laptops laid open across two rows of desks. It was a simple setup, but Kevin Hughes, vice president of sales and marketing for viNGN, argued that it was the first step to reinvigorating the territory's economy.
"Twenty-first century jobs are based on the Internet," he said. "With the closing of the Hovensa plant, one of the messages that we would like to send out to that community is that…you have an opportunity through viNGN to reinvent yourself and learn a new trade involving data."
Hughes said that under normal circumstances the courses being offered could cost hundreds or thousands of dollars, but the federal grant will allow viNGN to offer them tuition-free.
"They are free, but they're only going to be available to us for a limited amount of time," said Albert Bryan, Jr., commissioner of the Department of Labor, adding that the funding will run out in September 2013. He urged residents to take advantage of the program while it lasts.
"This is not limited to any sector or demographic," he said. "You don't have to qualify income-wise. This is available to anyone in the Virgin Islands. So if you have the chance to get this free training, why not take it?"
Hughes said that the ultimate goal of the training is to attract more modern jobs to the territory, such as digital call centers.
Larry Kupfer, president of viNGN, said that computer centers like the one at the Department of Labor will be installed in strategic locations on all three islands, 13 on St. Croix, 13 on St. Thomas and two on St. John. They will be located in the offices of public organizations, libraries and at various nonprofits.
Kupfer said that agreements with these institutions to house the centers were still being ironed out, so he could not provide a complete list of locations yet, but one should be available on the viNGN website in 30-45 days. A list of free courses and sign-up information will be offered at the same time.
The public centers will also be free of charge for nontraining related purposes. Residents are encouraged to use the facilities to access the Internet, print resumes or to pursue other business. All sites will also offer free Wi-Fi access.
At the press conference, Kupfer also gave an update on viNGN's ongoing efforts to build a fiber optic network throughout the territory. He said that 26 fiber access points were under construction and that bids were being solicited to lay 40 miles of new underground conduit around St. Croix and St. Thomas.
The project is supported by a $68 million grant from the federal government and $38 million dollars of bond funding approved by the Virgin Islands' government last year.
When completed, the network will allow Virgin Islands residents to enjoy faster and cheaper Internet access, Kupfer said.
Kupfer could not comment on exactly what the improved Internet access will cost because viNGN will not be selling access directly to consumers. Instead they will serve as a middleman, selling bandwidth wholesale to Internet service providers, he said.
Kupfer said that the network will include fiber optic cables along every major roadway in the territory, so he's optimistic that all Virgin Islanders will benefit from the project.
"I'm confident that with the network that we're building it's going to be very easy for the Internet service providers to cover every square inch of the island," he said. "I can't think of a place where you're more than a mile from the network."