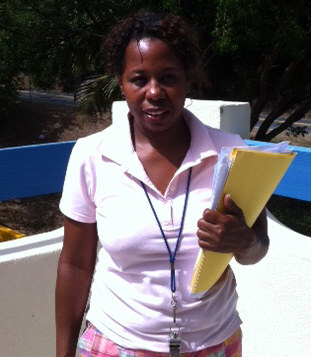 You have to transport a chicken, a fox and a bag of corn from St. Thomas to Buck Island. Only two of them will fit into your boat at the same time. You can't leave the fox alone with the chicken or the fox will eat the chicken. You can't leave the chicken alone with the corn or the chicken will eat the corn. There is no one to help you. What do you do?
If you're one of the young people attending summer camp at Total Camp Experience, you puzzle it out with the other two members of your "Brain Teasers" team.
Riddles, math contests, word games and spelling bees are some of the more academic activities camp director Jacque Nelthropp offers. More often, however, the campers, who range in age from 4 to 14, are engaged in more physical pursuits.
"It's not a sit-down job," Nelthropp observed. She's been doing it summer after summer since 2006, and isn't tired yet.
She started the program when she was working at Antilles School. An independent contractor now, she still prefers to rent space at Antilles' Mark C. Marin Center for the program, which is where it's being held this year.
"I need a big space," she said. "You have to keep the kids active."
The camp opened June 11 and will run until Aug. 10. Actual camp hours are 8 a.m. to 3 p.m., but students can be dropped off as early at 7:30 and families can take advantage of what Nelthropp terms "extended care" from 3 to 5:30 p.m. Families also have the option of enrolling youngsters for the entire session or for a week at a time.
"I do a lot of stuff. Nine weeks is a long time. You have to keep them busy," Nelthropp said. "I try to choose activities that they don't usually do at school or at home."
Included on the roster are gymnastics, rocket building, photography, sign language, dance, music, cake decorating, arts and crafts, chess and martial arts.
Also, "sports are offered every day," she said, with drills to teach a given sport and improve performance happening in the morning and actual play in the afternoon. Depending on the day, students may find themselves being coached in basketball, volleyball, soccer, tennis, hockey, golf, badminton, T-ball or flag football.
Then there are the field trips. It could be kayaking in the Mangrove Lagoon, a trip to Coral World, or a day dressing as a tourist and making the rounds from Drake's Seat to the Mt. Top Shops, and on to Magen's Bay for pizza.
"July is officially ice cream month," Nelthropp said, so at the end of the day on Fridays there's a 45-minute ice cream party featuring a different flavor each week.
It takes a lot of energy, but Nelthropp said, "I enjoy working with children."
Besides, she has backup. Daniel Whalen, who recently earned a degree in physical education from SUNY Cortland, is the sports coordinator. Stephanie Keefe, with her new bachelor of science degree from Syracuse University, is the site coordinator and teaches photography. Laura Keefe, who instructs the four and five year olds, is working on an degree in elementary education at Mount St. Mary University. And Ashley Wilkerson, senior camp counselor, will head back to American University at the end of the summer.
Then there are the counselors, high school students from both private and public schools on St. Thomas: Micah Nelthropp, LaQuanda Fredericks, Askia Richard, Tariq Davis and Brandon Wynter, as well as three student volunteers who work part-time for community service hours.
Several of the staff are former campers. In Wilkerson's case, "she actually has been working with me since the time she was in middle school at Antilles," Nelthropp said. "I like when the kids come back. They know the dynamics."
Nelthropp has established herself as a premier camp director, but that's just one thing on her plate. The mother of four – ages 15, 20, 21 and 22 – she is full of plans for projects. She already has a degree for doing paralegal work and is pursuing an online degree in secondary education with Grand Canyon University. Eventually she'd like to get a master's degree and become a guidance counselor.
In the near term, she's putting together "Beyond the Bell," an after school program, and has plans for introducing a mentoring program for pre-teens.
Those interested can contact her about the summer camp at totalcampexperiencevi@yahoo.com or call her at 340-514-1630.
Good luck with the brain teaser.