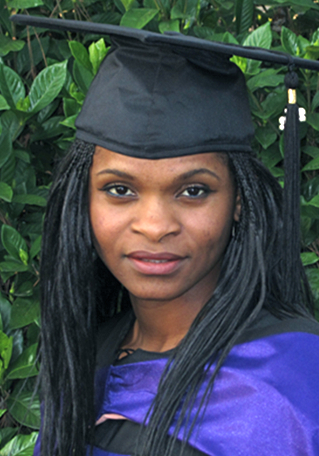 For the better part of six years, Pearl Durand hasn't gotten much sleep. In May 2006, the St. Croix native ended her longtime relationship with the father of her children and resolved "to get rid of everything in my life that was not in alignment with my success." That same month she enrolled for online classes offered by Ashford University in Iowa, determined to get the education she always wanted.
"Ashford made things really easy in the sense that you do it on your own time. I'd stay up every night to 2 a.m. and make a routine of doing that," she says. "And then go to work for 7 a.m., which was crazy, but it was doable."
Durand's life became a delicate balancing act between competing responsibilities. During the day she was an employee, in the evening she was a parent to her three young children, and at night she was a college student.
"It's taken a lot of hard work, a lot of discipline, and a lot of long hours," she says. "When people are sleeping, I'm up doing work."
Durand is one of the increasing number of students to leave traditional, classroom-based education for the flexibility of online education. According to the National Center for Education Statistics, the percentage of students enrolled in online classes increased steadily throughout the last decade. Their study also found that older undergraduates or those with fulltime jobs or children were the most likely to take advantage of distance learning opportunities.
Once considered less reputable than degrees earned in person, online education is gradually shedding its stigma as more and more established universities offer programs partially or entirely online. In May, Harvard University and the Massachusetts Institute of Technology made headlines by announcing they would offer free, graded courses online to anyone who was interested (credits are not awarded for these classes, however).
For Durand, Ashford's online program was a second chance. She enrolled in college directly out of high school, but decided to drop out when the financial strain became too much for her family. She joined the military instead, serving as a combat medic in the Army from 1995 to 2003.
By the time she returned to school, Durand was 10 years older than most freshmen, with two young daughters at home. Far from feeling like a fish out of water, Durand said being an adult student actually made being a parent easier in some ways.
After the separation, Durand's older daughter, Sky, began having trouble at school. She would hide her homework rather than doing it, and her grades quickly dropped.
Durand realized that, as a student herself, she could better relate to her daughter's school troubles. Education became a topic of conversation. They shared stories about homework and tests and, as Durand recalls, "They always saw me in a book."
She went so far as to start a friendly competition with her daughter. After each test or paper, they would compare grades to see who was doing better at school.
Durand says that the encouragement worked and her Sky has gone from getting C's to A's. This year she graduated valedictorian from John H. Woodson Junior High School and will attend the John Hopkins Gifted and Talented Program in Bristol, RI.
Durand believes that with education, as with all things, it's imperative for parents to set a good example by walking the walk.
"The proof comes from modeling what you say," she says. "You can say something all day long, but if you're not doing it you're not solidifying [the message]."
Durand graduated from Ashford with a bachelor's degrees in organization management and biology in 2009 and, in 2012, she completed her master's in health administration.
At the end of her last semester, she was chosen to be one of four online students to receive a fully paid trip to her graduation ceremony. When the school flew her up to Clinton, Iowa, in April, it was the first time she saw the campus where she had been studying from a distance for years. It might seem like an odd ending to her digital journey, but Durand says that putting on her cap and gown and physically walking across the stage to get her diploma was a blessing from God.
Durand has no complaints about her digital education and has become an advocate for online learning. Her sister-in-law and three of her friends have decided to give it a try, she said.
Her only caution to other Virgin Islanders who are interested in pursuing an online degree is be honest with yourself about whether you think you can do the work on your own. Without a structured classroom, there are fewer people to keep you on task.
"You have to figure out what type of person you are," she says, adding that she has always preferred learning things on her own than being taught in a classroom. "That's how I knew the online forum would work for me."
There are several guides to online degree programs on the internet. Those interested in doing more research can start at http://www.usnews.com/education/online-education.