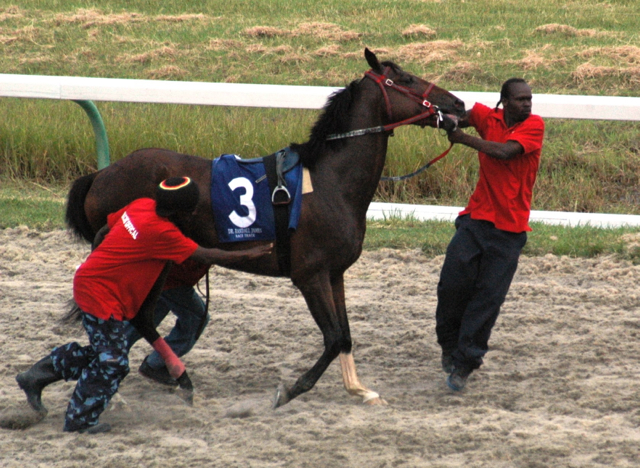 The Independence Day Classic, the ninth race on the card, will highlight TRAXCO's annual Fourth of July Races Sunday at the Randall "Doc" James Race Track.
Six thoroughbreds will be in the gates for the 1-1/16-mile race, vying for the lion's share of the $6,000 purse. Two of those horses, Gato Paso and Cracklin, new arrivals from Puerto Rico, will make their St. Croix debut and are expected to figure prominently in the race. The former was once a very good horse in Puerto Rico and the latter is coming off of a victory in his last race.
The class of the race, however, should be Berberis, a horse that has competed at a higher level than most of these and came to the islands with high expectations. He has been inconsistent though. If he shows up today the others will be all running for second place money. Puerto Rican Emblem will also be in the mix and will look to steal this one on the front end, while Erie's Run, once a highly touted runner, now seems to be on a downward spiral, but if he can find some of his old form he could make things interesting. San Viron is stepping up in class and looks to be in over his head in this field. He is, however, an old warrior and will look to pull the upset.
The Budhoe Classic, for native thoroughbreds, is the eight race on the card, run over a distance of one mile for $4,400. Four thoroughbreds will try to upset the native champ, Prince Crystal, who will be in with the top weight. Creation Rebel has been close on occasions and does have a rear victory over the champ, but that has been avenged several times over. The speedy filly, Master Deposit, invades from St. Thomas, and many believe if the big boys let her get too far in front she will be hard to catch. Express to Cali always puts his best foot forward, but will it be good enough against this tough field? Cruzan Emerald is up against it in this race and will be a huge long shot.
The rest of the day's card:
Race 1 Class N-6 C/G –M/F 7F, $3,700
1: King Yabo
2: Hilary Boss
3: Diamond Colony
4: Elani
5: Polo Matches
6: Mama Linda
Race 2 Class N-4-5 7 ½ F $3,800
1. Midnight Indictment
1 A. Gold Finger
2. Hanna Boss
3. Tru Gold
4. Joe Boss
5. Miss Kosi
6. Yahboribos Weapon
7. 7. Omayra's Pride
Race 3 Class I-5 (C/G) 1M $4,000
1. Black Machine
2. Salty Glider
3. A Bit Of Madness
4. Game Winner
5. Turn To Win
6. Separate Bill
7. Ala Cat
8. Big Thunder Reflec
Race 4 Class I-3-4(M/F) 6F $4,000
1. Devil's Revenge
2. Prodefrere
3. Dance Mistess
4. Paul's Gift
5. Destiny's Arrival
6. Rasta Queen
7. Dream Appeal (Debut)
8. Lost Explorer
1A. (A/E)Apron Dance
Race 4 Class I-3NWRS &I-4 7 ½ F, $4,100
1. Stop Playing
2. Johann Slew
3. Thanks McGivern
4. Groomsman
5. According to Jesus
6. Going Blue
7. Full House project
8. What's Poppin
Race 6 Class I-1-3 (M/F) 1M $4,800
1. Watch Your Back
2. Leggy Blonde
3. Whoshotthesheriff
4. Sardina
Race 7 Class I-5 1 M $4,300
1. Akebono
2 Drink at last Call (Debut)
3. Green Sand
4. Beantown
5. Political Reporter
6. Twisted Dream (debut)(STT)
Race 10 Class I-5-C/G 7 ½ F, $3,600
1. I Confess
2. Robadorable
3. Neerly Nasty
4. Thumbleweedsn'roses
5. Shamrock Classic
.