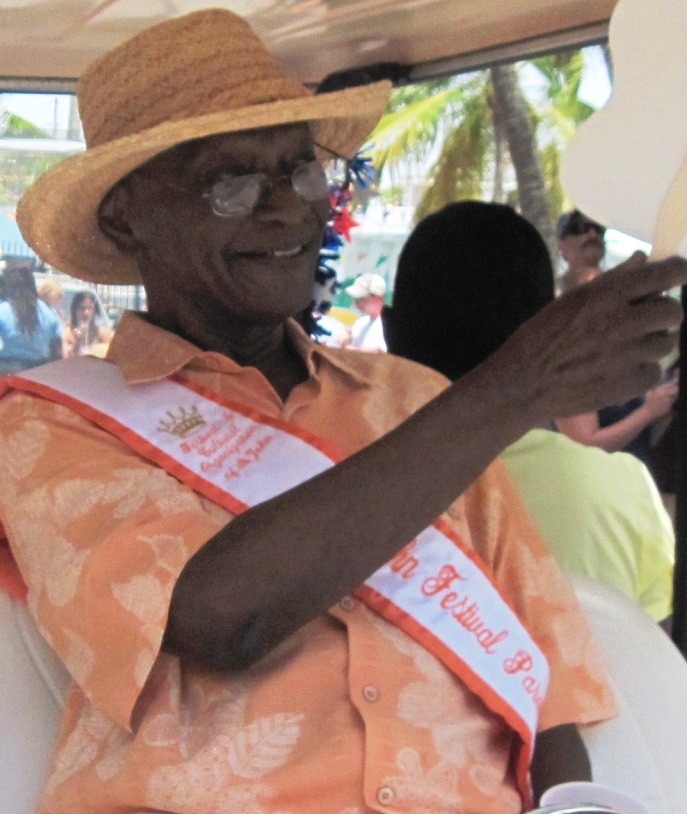 Slightly cloudy skies helped keep a lid on the temperature as nearly 50 troupes, floupes and more groups made their way through the streets of Cruz Bay on Wednesday for St. John's annual Festival parade. The rain held off till about 3:30 p.m.
"It's Carnival," blasted the music from one of the trucks that accompanied the troupes.
The parade began almost on time – 50 minutes past the 11 a.m. scheduled start time – with St. John resident Rodney Varlack leading the way as the parade marshal.
"I hope everyone enjoys themselves," he said, waving to the crowd.
The usual bevy of beauties in convertibles followed with the Mighty Marching Gulls steel pan group from the island's Julius E. Sprauve School coming next. With pans in the school colors of blue and yellow, the group made its inaugural appearance at the parade.
Assistant Principal Brenda Dalmida said that although it was a new group, she expected it and its activities would grow.
Majorettes, the Love City Leapers jump rope group, mocko jumbies, steel pan groups, the traditional Gypsies from St. Thomas, and floupes from both the Westin Resort and Villas and Caneel Bay Resort were among those that wended their way through Cruz Bay.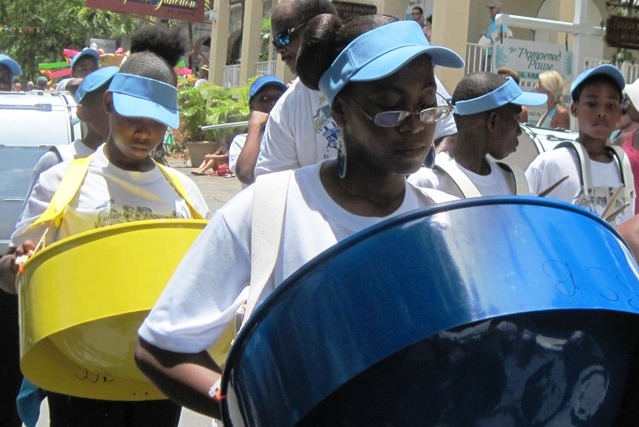 While those in the parade were the main event, it was also a time for residents and visitors to mix, mingle and catch up with folks they only see every once in a while.
That was the case for about 50 members of the Hassel family, who trekked over to St. John to enjoy the parade as part of their family reunion activities. About half the family lives on the mainland and the other half in the Virgin Islands, family members said.
"The elders got together and put out a schedule," Chicago resident Lelia Ellison explained when asked what prompted them to come to the parade.
Kalae Hassel, who lives in New York, said she went once to the St. Thomas Carnival parade when she was younger, but this was her first time at St. John's.
Tom Guesman of Cortland, Ohio, said he was included because his son married an Ellison. He said he feels closer to this unrelated part of his family than he does to his own.
Vinni Thomsen of Aarhus, Denmark, was making a swing through the three main Virgin Islands. She said she's interested in Denmark's ties to the territory, but added that the link isn't talked about much in Denmark.
"We're not proud of our history because of slaves," she said.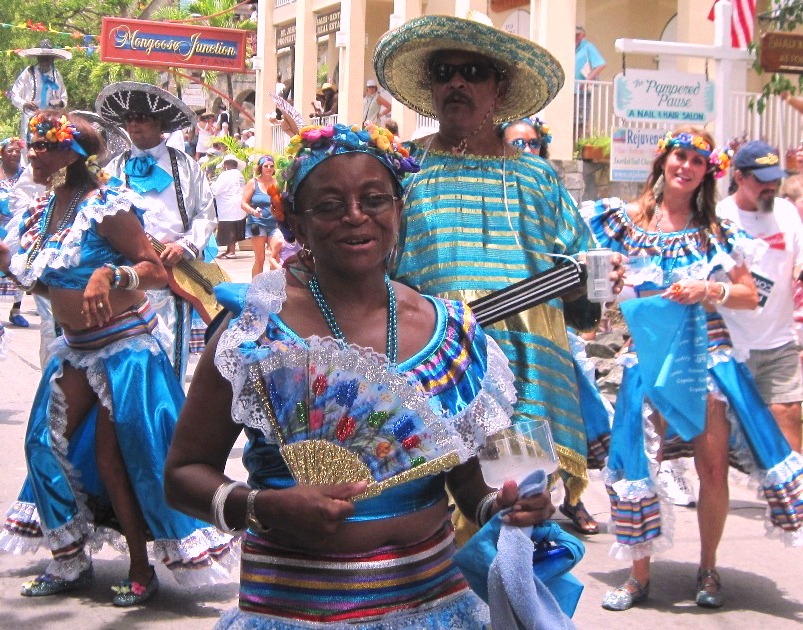 The ferries and barges were filled with St. Thomas residents who headed across Pillsbury Sound to take in the sights and sounds of Festival. Suzette Hebert wanted to make sure a long-time friend from Manchester, N.H., Janet Goodhue, sampled some of St. John along with the parade.
"We want to see the mocko jumbies," Hebert said.
Politicians and would-be politicos, including the territory's top two, were out in force at the parade. Gov. John deJongh Jr. hailed residents and visitors alike as he worked his way up toward Mongoose Junction shopping center at mid-afternoon.
"This is one of the best parades," he said, adding that he's happy to see everyone out enjoying themselves.
Lt. Gov. Gregory Francis and his wife Cheryl made their way along the parade route before it started, stopping to greet many who already lined the route.
"Happy Birthday, United States of America, including the U.S. Virgin Islands," he said.
The link between the Festival's origins as the Fourth of July celebration are faint. A large V.I. flag flew at the front of the We and Dem mocko jumbie troupe, but no American flags waved in the breeze. However, quite a number of people wore shirts with the flag blazing across the front.
St. Thomas resident Ronnie Lockhart, who has attended the parade for more years than anyone remembers wearing an American flag on his shirt, bought a new one this year to replace one that was badly faded.
As Lockhart chatted up a reporter, someone wearing an identical shirt passed by.
"I just love the flag," U.S. Army Sgt. Conrad Hunter said.
Hunter, a New York native who served three tours in Iraq, now lives in Virginia. He has ties to St. John and was on-island to visit his Hansby and Jacobs relatives.
While most folks were out to have a good time, 13-year-old Julia August and three others from Our Lady of Mount Carmel Church on St. John were busy selling bottles of water at $1 apiece.
"We're raising funds to go to Trinidad for the Youth Explosion," she said, adding that sales were good.
AARP of the Virgin Islands paraded to help promotes its 2012 message. "You've earned a say," said Director Denyce Singleton, adding that members don't want the U.S. Congress to "mess" with Medicare and Social Security.
Leona Smith, who heads the St. John Cultural and Festival Committee, said there were no serious incidents throughout the celebration. She said there were about 10 fights in the Village Saturday, but no one was injured.