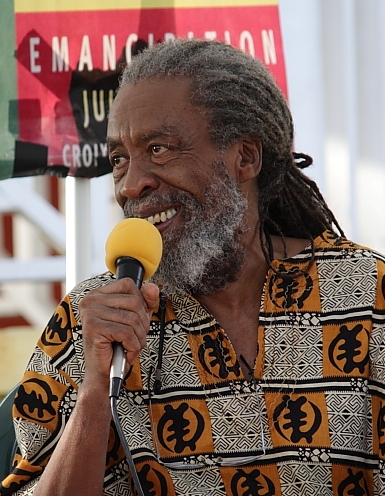 St. Croix residents marked Emancipation Day with a slew of events Tuesday near Fort Frederik where Gov. Gen. Peter Von Scholten was forced to free all enslaved people in the Danish West Indies 164 years ago.
While history was the focus of the celebration, many in attendance said they found parallels between their ancestors' struggle and the issues facing the island today.
The day began with a commemorative march from Fort Christiansvaern to Fort Frederik starting at 5 a.m. and ending around 10 a.m. Several hundred people completed the 14-mile journey despite heavy downpours.
"Yeah, we got rained on, but we got dried after by the sun, so it all worked out," laughed Sen. Terrence "Positive" Nelson, who started the march 11 years ago and has organized it ever since.
"The significance of this march is to help to bring remembrance to this day," he said. "That's all our ancestors ask, that we remember their efforts and the efforts of all who struggled for justice and equality."
Nelson explained that Emancipation Day should have meaning for all Virgin Islanders, regardless of race, because it represents the triumph over oppression.
"Even though in 1848 it was relative to enslaved Africans, we all have things oppressing us," he said. "We all have challenges we can overcome."
Nemmy Jackson echoed this idea. She made the march with her three friends, Natasha Modeste, Stephanie McIntosh-Lewis and Melissa Bailey. Afterwards the group relaxed in the park near the fort looking sore but triumphant.
"We made it," Modeste said. "That's what's important."
This was the first year Jackson participated in the march. She said she decided to join in part to honor her ancestors, but also to protest the recent spate of government layoffs and salary reductions.
"I really feel what the government is doing to individuals—making them unsure as to where their next bread is coming from, making them unsure of how they're going to survive with their family because they're in a government job—it's not fair. One day you have a job and the next you're terminated, for no wrong doing, just because," she said.
Jackson said that just like the enslaved Crucians who marched to break their chains, it was time for Virgin Islanders to organize and take a more active role in local government.
"People here need to rise up and demand certain things," she said.
At 5 p.m. the celebration continued with a pair of speeches by Fort Frederik. The first was given by high-school student Isaac Torres, who spoke about what emancipation meant to his generation.
"What does it mean to emancipate yourself? To me, mental emancipation is to free your mind," he said.
He went on to talk about the importance of knowing yourself and your heritage.
"Knowing where you come from is part of mental emancipation," he said. "It can give you the strength to be a free individual."
Mario Moorhead spoke next, giving a lengthy description of the historical events surrounding Virgin Islands emancipation. His speech covered everything from Denmark's allegiance to France during the Napoleonic War to the economic impact of sugar beets.
He explained that while many factors helped shape the revolution in 1848, ultimately it came down to the bravery of Moses "Gen. Buddhoe" Gottlieb and those who followed him that made freedom a reality in the Virgin Islands.
"Your ancestors were able to persevere because it was do or die," Moorhead told the crowd.
After the speeches, the crowd danced the quadrille into the evening.
Betty Wilson, one of the event's organizers, said she was happy with how the day turned out but said the crowd was smaller than last year. She attributed the low turnout in part to the country music concert taking place at the Divi Carina Bay Beach Resort.
She also said that planning the event this year was more difficult because they did not receive any funding from the V.I. government. She was still optimistic about next year's celebration.
"We're not going to let it die. We going to just continue and make sure there is a 165th celebration," she said.