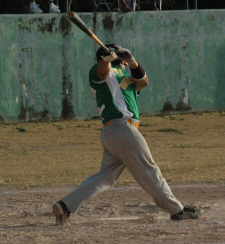 Malcolm McGregor rebounded from a shaky start to pitch the 40-Plus Hurricanes, the geriatric posse of the Raphael Jackson AA Baseball League, to a 4-3 victory over the defending champion Yankees on Sunday at the D.C. Canegata Ball Park.
Geronimo Newton pitched an inning and two-thirds to pick up the save. Ian Lewis, the Yankees starter, got the loss but pitched well enough to get the victory. Some questionable base-running by his team surely did not help his chances.
Batting in the top of the first, the Canes got on the board early with two runs on an RBI triple by Carlos Morales and an RBI single by Raymond Cintron. The Yankees were equal to the task in the bottom of the inning, tying the game at two, on Steve Simmonds, Jr.'s two run single.
After the Canes failed to score in the top of the second, Simmonds came through again for the Yankees in the bottom of the inning with an RBI double to give his team the lead at 3-2.
A pitching duel would ensue over the next three innings between Lewis and McGregor, with neither giving opposing batters much to hit. In fact, McGregor with reliever Newton would blank the Yankees after the second inning. The Canes did pick up an unearned run in the top of the fourth to knot the game at three.
A couple of Yankees errors placed a runner on third with one out in the top of the sixth and backup catcher, David Clark's sac fly to deep center gave the Hurricanes the lead for good.
The victory was the Canes third in four games and second in a row against the league's top teams in the Dominicanos and the Yankees. They finished with four runs on four hits while the Yankees had three runs on six hits. Top batters for the Canes were Carlos Morales and Raymond Cintron both (1 for 4 with one RBI). For the Yankees Steve Simmonds was 2 for 4 with three RBI.