Fireworks will be back next week when St. Croix does its part to celebrate American independence, and it's all because the community just wouldn't accept another dark Fourth of July.
A year after economic trouble put a damper on Fourth of July celebrations, an ad hoc committee rose up and rallied Crucians to make sure 2012 wasn't a repeat of that disappointment.
And fireworks are only one part of a celebration that will wrap the west end in red, white and blue and give families a full day of fun.
Organizers gathered Tuesday morning at Coconuts on the Beach to discuss their plans and give a final push on fundraising.
Pyrotechnician Sherrod LaCoss, Julio "JT" Torres of Villa Morales, Grace Tingle of Coconuts and Kevin Stevens said this celebration will belong to the community in a special way. Unlike years past, when one business sponsored the bulk of the expenses, this year's celebration has been paid for by scores of donations – from a couple of $1,000 and $500 checks from local merchants to tens and twenties and even spare change pushed into donation buckets around the island.
A fireworks show isn't cheap, LaCoss said. The fireworks for a 15-minute show will cost $15,000. So far the committee has raised about $11,000, he said, adding that the fireworks, which have to be ordered months before the event, are already on the island.
Torres has been pushing local businesses for their support. A Zumba dance event at his restaurant raised $700, he said, saying he expects the remainder of the money to be raised soon. Any money raised over and above the cost of the fireworks show will be donated to the Special Olympics, he added.
Tingle said the fireworks will cap off a day of activities for the whole family.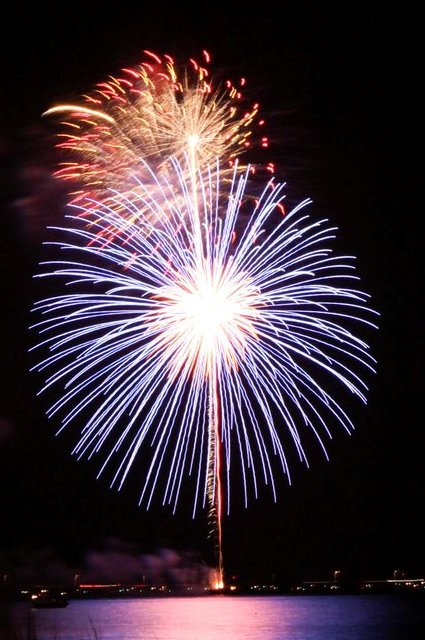 – Beginning at 3 p.m. and continuing through the afternoon, local bands will play under the gazebo in Buddhoe Park by the fort. Food and local crafts will be for sale from vendors booths throughout the area;
– Volleyball tournament at Rainbow Beach. Registration will begin at 1 p.m. The buy-in for each four-man team is $20, and the winning team takes all the money;
– Sand castles. 2 p.m. Sandcastles on the Beach. A sand castle expert will be on hand to show viewers how to build a masterpiece, and a contest for adults will begin at 2:30 p.m.;
– Fun for children of all ages from 2 p.m. at the Midre Cummings Children's Park, across from the Frederiksted Fort. Children can participate in a craft building workshop sponsored by Home Depot, which has donated 400 craft kits, and in family games;
– Red, white and blue bikini contest, 4 p.m. at Coconuts on the Beach. Winner gets a $200 cash prize;
– Horseshoes at Coconuts on the Beach beginning at 4 p.m.;
– Paddle board relay races, 5 p.m. at the Old Sand Bar;
– Pizza-eating contest, 6 p.m. at the Lost Dog Tavern;
– 8 p.m., singing of the National Anthem, followed by;
– Fireworks launched from the Frederiksted Pier beginning at 8 p.m. Visible from up and down St. Croix's western shore;
– and Flaming Gypsies immediately after the fireworks at the Frederiksted Pier performing their fire dances.
Also taking part in the Frederiksted Fireworks Committee are representatives of the Frederiksted Economic Development Agency and the governor's office
The committee is still looking for volunteers, especially for supervising the children's activities at the park. Those interested – as well as local cooks and artisans seeking booth space – can contact Tingle at 719-6060.