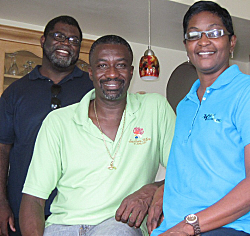 Sea Shore Allure condominiums sit just a five-minute walk from Cruz Bay's restaurants and shops, but its Pond Mouth location makes it light years away from town's hustle and bustle.
"It's an excellent location, and you can hear the surf," co-owner Delrise Varlack said.
It's proximity to Cruz Bay means that guests who want to go out on the town can safely walk home. While the island has plenty of expensive villas, Varlack said this is the only one located close enough to Cruz Bay to making walking easy.
"It's not way out in the boondocks," Varlack said.
Varlack owns the property with Delbert Parsons. Wendell Powell is the manager. They are among the very few people with deep roots on St. John involved in owning or in the upper echelons of the accommodation industry. And all have plenty of experience in other facets of the hospitality industry.
Varlack is the manager at Varlack Ventures, a car rental, ferry and school bus company started by her father, Rodney Varlack. Parsons previously owned Ocean Runner boat rentals, and Powell spent most of his career working at places like Gallows Point Resort, Caneel Bay Resort and the Westin Resort and Villas.
Sea Shore Allure is a high-end property with eight units. The four one-bedroom ones are on the lowest level, with two two-bedroom ones on the middle floor. Two three-bedroom units are on the upper floor. All are named after shells.
In addition to stellar views, they come complete with granite countertops, stainless steel appliances, attractive furniture, and many features including a very large flat-screen television and surround sound at the pool. The units are fully air-conditioned.
"It's for the person looking for luxury accommodation," Powell said.
Sea Shore Allure is on the V.I. Water and Power Authority water line so supply isn't an issue. Parsons said that guests won't hear any of the usual messages about conserving water when they stay at Sea Shore Allure.
Sea Shore Allure sits at the very outside edge of Enighed Pond. It's reached via Pond Mouth Road – the street that runs past the fire station, the public tennis courts and a stretch of houses. The barges that come and go from Enighed Pond Marine Facility make their way right past Sea Shore Allure, but visitors don't hear a sound once they're inside their unit. And it's hard to hear them at the waterfront pool because the fresh breeze overrides any noise.
The condominiums opened in January 2011 after nearly six years of construction. While Parsons is not a contractor by trade, he served as the general contractor. He said he learned by doing when he built his own house on Gifft Hill Road.
He said he tried to buy local as much as possible but construction did require trips to Miami to find materials not available on St. John or St. Thomas.
Parsons also kept tabs on the slew of workers who built Sea Shore Allure.
"Once I got the right guys," he said, the job became a lot easier.
For more on Sea Shore Allure, visit www.seashoreallure.com or call 779-2800.