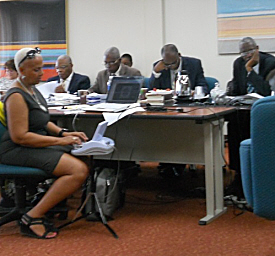 Trustees of the Government Employees Retirement System wrestled with the issue of missing contributions, but at the end of their meeting Thursday had not resolved how they would deal with it.
The board is scheduled to hold a retreat on St. John next week to continue discussions.
The issue arose at a meeting June 6, when the board learned that some employee retirement accounts were missing contributions from the government employer. Under the retirement system, the government and employees are both supposed to make regular contributions to the employee's retirement account.
At some point in the past it appears that some government contributions were not made. The GERS has not said how widespread the problem is, how many employee accounts are involved, or precisely when it occurred.
According to GERS Administrator Austin Nibbs, when employees retired and their account was audited, some were found to have fewer government contributions than they were supposed to. In the past, in those circumstances the GERS credited the employee with the amount that should have been deposited rather than the amount that was.
But a law passed in 2008 has changed the calculus. Now in such circumstances, the employee has the option of either making up the difference or receiving a lower annuity.
While considering how to handle the problem, GERS told employees not to accept new retirement applications. Under the law, when an application is filed the system has 60 days to complete processing it. But with the issue simmering without a solution, applications weren't accepted so the clock wouldn't start ticking before a solution was found.
At the June 6 meeting the board instructed GERS employees to accept applications and adhere to the law as it stands.
Nibbs pleaded with members Thursday to put the issue to rest. But when the meeting drew to a close, no final decision had been made. Trustees argued over how the system could let the government know how much is missing from accounts.
Board member Vincent Liger said it was unfair to individuals who have complied with the law to then have to make up for the government's mistakes. The law, he said, presupposes that the employer has an obligation to make a contribution.
According to the law, if the employer fails or refuses to pay, the employee must, Nibbs said. If the member does not have ability to remit employers contributions, the bill will be budgeted, or it can be put in the books as an amount owed.
"It's a case-by-case issue," said board chairman Raymond James. "This is an issue of notice. Some notice would've had to have been placed on employers."
In the end, the board decided to wait another week before making its final decision.
"It was a good discussion, but we need further input before we can move on," Nibbs said. "It really is a complicated issue. We will make a decision by next week."