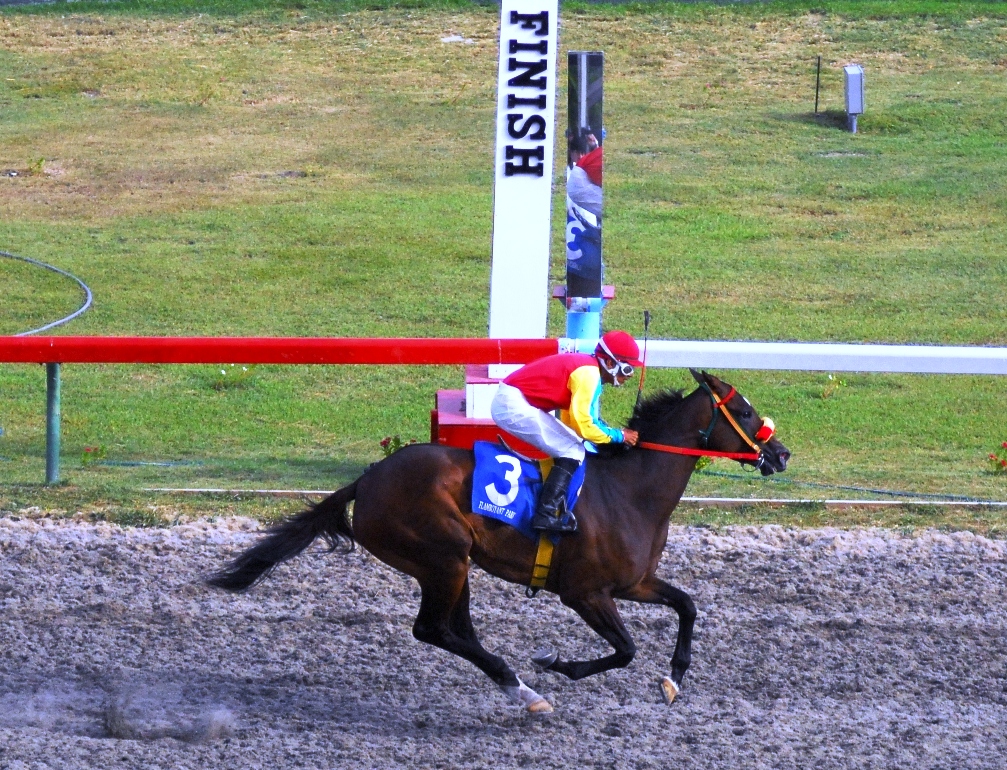 Beantown, taking full advantage of three prominent scratches in the featured race of the day, romped to an easy three-lengths victory in the "Who's Yo Daddy Classic" at the Randal "Doc" James racetrack.
Beantown covered the one-mile distance in a time of 1:38.1 to take home the lion's share of the $6,000 dollar purse in the seventh race of the day.
Beantown easily avenged an April loss to Expect Smoke and looks to be on his way up the chart of the top thoroughbreds on St. Croix.
According to Jesus closed well to get second while Expect Smoke could only muster a third-place finish.
In a seven-furlongs contest for St. Croix top fillies and mares, the sixth race on the card, Whoshotthesheriff pulled off a huge upset when she collared Leggy Blonde and the previously undefeated and highly touted mare, Lavender Lane, to win in a time of 1:25.3.
Leggy Blond held on for second, with Sardina closing hard to garner third place money. Lavender Lane had to be eased nearing the wire after sustaining what appeared to a front leg injury.
Meanwhile jockey Winston Hurst had a great day riding at the track on Sunday. Hurst took four thoroughbreds – Destiny's Arrival, Turn to Win, Green Sand and What's Poppin – to the winners circle, and had a possible favorite scratched in the feature race that could have very well been his fifth win on the day.
Hurst, who hails from the twin island nation of Antigua and Barbuda, has been steadily making a name as a good, up and coming jockey in both the U.S. and British Virgin Islands since moving to St. Croix from his home island.
The rest of the day's results:
Race1 5 F Classes N-6, Jockey
Time: 1:01.3
1. Hanna Boss, A. Claudio
2. Diamond Colony, S. Powell
3. Crystal Blessing, W. Hurst
Race2 7 F Class I-4& I-5, (M/F) Jockey
Time: 1:27
1. Destiny's Arrival
2. Lost Explorer
3. Paul's Gift
Race3 7 F Classes N-5, Jockey
Time: 1:29.3
1. Midnight Indictment, A. Claudio
2. Yahboribos Weapon, E. Barnes
3. Miss Kosi, M. Sanchez
Race4 7 F Class I-3 & I-4, Jockey
Time: 1:25.1
1. San Viron, J. Guadalupe
2. Groomsman, B. Hernandez
3. Full house Project. S. Orti
Race5 7 ½ F Class I-5 & I-6, Jockey
Time: 1:34
1. Turn to Win, W. Hurst
2. Prince Crystal, E. Banes
3. Neerly Nasty, S. Ortiz
Race8 6F Class I-5 & I-6, Jockey
Time: 1:12.1
1. Game Winner, S. Diaz
2. Far Rumor, E. Barnes
3. What's Poppin, S. Ortiz
Race9 7 ½ F Class I-1 & I-2 (C/G), Jockey
Time: 1:33
1. What's Poppin, W. Hurst
2. A bit of Madness, J. Santiago
3. Black Machine, J. Guadalupe