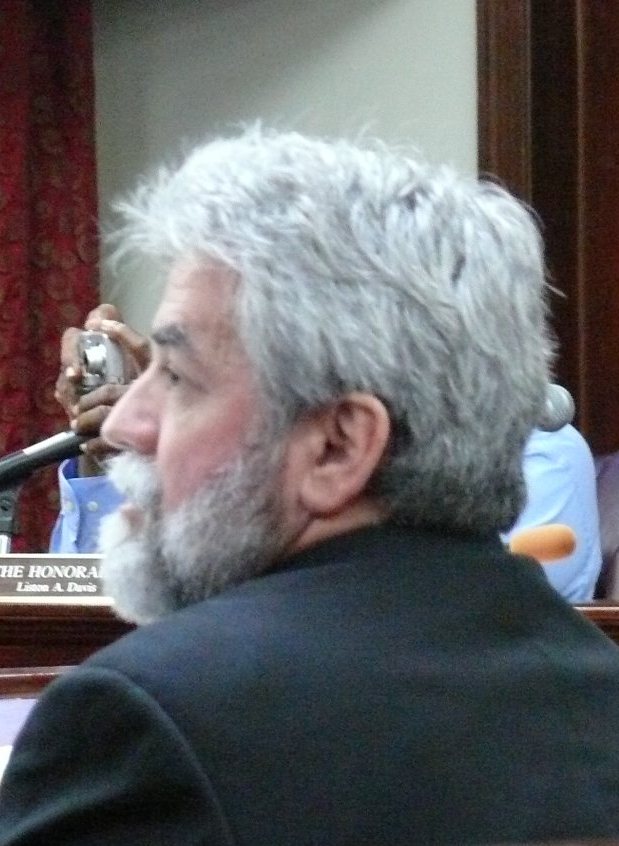 It will be easier for the Department of Human Services to trigger court hearings to terminate parental rights and initiate adoption of severely abused and neglected children in long-term foster care, if a bill being amended in committee becomes law.
The measure, sponsored by Sen. Louis Patrick Hill, attempts to respond to concerns of foster parents, family law attorneys and Human Services professionals working with children who have been separated from their families, by clarifying the process for terminating parental rights.
"The involuntary termination of parental rights is perhaps the most difficult challenge faced by all child abuse and neglect systems," Human Services Commissioner Chris Finch testified. "It requires the child abuse and neglect agency to determine that the child cannot safely be returned home because of risk of serious harm or because the parent cannot even minimally provide for the child's needs and is unlikely to become able to do so," he said.
While never a first option, policies have to be in place to guide agencies when termination is necessary, he said. Termination of rights makes adoption into a loving home possible, while the alternative is years in foster care.
About 900 children with problems at home are in various Human Services programs, of which only 136 are in foster care, and of those, 22 are recommended for adoption, Finch said. Those are all severe cases of neglect or abuse, and often the parents actively refuse to have contact with their children.
"I've had children ask me why there is no family for them," Finch said. "Why there is no family for them? It is a heart-wrenching situation for everyone involved."
Under existing law, Human Services' Family Division may ask the court to terminate parental rights under very specific circumstances. The court may terminate parental rights if the child was removed from the home for abuse or neglect, and if after more than six months, despite diligent government efforts, the court cannot be reasonably certain the child will not suffer more abuse or neglect.
Under the proposed bill, the grounds and process for termination are laid out in greater detail, and proceedings are triggered automatically in some situations, such as if the parent is a habitual violent felon.
The court would be able to terminate parental rights if it finds by clear and convincing evidence that any of the following grounds exists:
– abandonment has occurred for more than six months;
– unwillingness or substantial noncompliance with reasonable efforts to achieve reunification;
– the child has been removed from the home for more than six months and the conditions that led to the child's removal "in all reasonable probability would cause the child to be subjected to further abuse or neglect still persist;
– when the child has not been in the physical custody of the parent for 15 of the most recent 22 months; a presumption exists that the above conditions exist unless the parent can prove it is more likely than not the child will be returned within six months;
– the parent has been found to have committed aggravated child abuse;
– the parent is incarcerated and either will be in jail for a substantial time before the child is 18 or the court has determined the parent is a habitual violent felon or sexual predator;
– the parent is convicted of the intentional and wrongful death of the child's other parent or legal guardian;
– the parent has failed to comply with child support obligations;
– and an array of other severe circumstances.
Finch said Human Services objected to a provision that would have allowed any interested party to initiate termination, reiterating concerns raised by Human Services in earlier hearings.
Speaking for the V.I. Bar Association, attorney Emile Henderson said the bar also objected to letting any interested party initiate termination. The bar objects to provisions requiring the court to rule on a termination petition within four months and ones to allow termination solely because of incarceration or because of nonpayment of child support or lack of visitation.
Finch said he opposed removing lack of visitation as a trigger, saying when a parent refuses to have any contact with their children is when it is most important to find a safe and nurturing home for the child.
"I personally have witnessed a child screaming itself to sleep night after night" because their parents abandoned them, he said. "It is a very important part of the termination decision. It is one thing if they are not working with us, but it is another if they do not even have an interest in contact with their child."
Though not a member of the committee, Sen. Nereida "Nellie" Rivera O'Reilly gave the measure a strong endorsement.
"Close your eyes and think about those 900 young people, little people who did not ask to be here who are here because two young people brought them into the world and were not prepared for whatever the reason to fulfill their duties as parents," O'Reilly said. "And now their fate is in the hands of this body if we want to give them a fair shot, an even chance of success."
Rules approved an amendment from Hill addressing several raised concerns. The amendment removed a passage saying any interested party could file for termination, limiting that role instead to Human Services and a court appointed guardian ad litem. It also clarifies that children age 15 or over, deemed competent by the court, would have the right to decide for themselves if they supported termination of rights. It also removed a passage that would allow termination of parental rights if the court simply found termination was "in the best interest of the child."
As she did in earlier hearings, Sen. Alicia "Chucky" Hansen expressed concern about taking parental rights away when a parent has fallen on hard times but loves their child, saying a person could end up in jail for self defense, or lose their mind and later get back on their feet, and still love their child.
Voting to send the bill on for further amendment and a final vote on the floor of the Senate were Sens. Carlton "Ital" Dowe, Sammuel Sanes, Patrick Sprauve and Usie Richards. Sens. Ronald Russell and Alicia "Chucky" Hansen voted nay. Sen. Celestino White was absent.
The committee voted to table a bill capping speculative foreclosure sale purchasers of V.I. real estate at five properties per year.
A bill to expand the monitoring of sex offenders, bringing the territory in line with federal standards and sending the message that the Virgin Islands is not a haven for people who sexually abuse children, was held for some additional amendment in Rules next week. A federal act in 2006 required all state and territory laws to be updated to new standards by July 2011 and the territory is losing about $200,000 of certain grant funds because it has not made the changes yet, Attorney General Vincent Foster testified.
The bill expands the definitions in the local statutes establishes a tiered system for registrants based on the severity, number and types of the offenses for which sex offenders are convicted. For the lowest tier, convicted sex offenders must be registered for 15 years. The highest tier calls for registration for life.
The committee sent on bills:
– instituting staggered terms for members of the V.I. Board of Education and reinstate a residency requirement and authorizing the Board of Education chairperson to appoint a designee to the University of the Virgin Islands Board of Trustees and the V.I. Public Television System;
– allowing the governor to fill vacancies on boards and commissions when the vacancy requires the appointment of a commissioner or division head;
– honoring and commending Audie Enrique Henneman and to name the gymnasium at the Bertha C. Boschulte Middle School the "Audie Enrique Henneman Gymnasium."
Rules also approved the nominations of Manuel Gutierrez Jr. to the V.I. Port Authority Board of Governors, and Joseph San Martin to the V.I. Public Services Commission, sending both on without opposition for final confirmation votes on the floor of the Senate.
San Martin is a 20-year resident of St. Croix and has lived the entire time on King Street in Christiansted, he said. A realtor, he founded the St. Croix RE/MAX office, he said.
Gutierrez started Centerline Car Rentals "over 22 years ago with two used cars," he said.