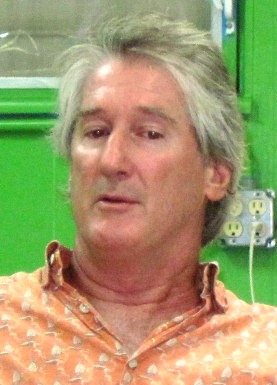 If all goes according to plan, the corner in Coral Bay across from the Dumpsters where Route 107 meets the lower part of Kinghill Road will have a new look come November.
The Coral Bay Community Council has a $20,464 grant from the National Fish and Wildlife Foundation to do a wetlands restoration project at the corner. To match it, the group must come up with $20,000 worth of in-kind donations, organization president Sharon Coldren said Monday.
"I wouldn't be standing up here if I wasn't asking for volunteers," Coldren said, laughing.
More than a dozen people attended a meeting about the wetlands restoration project held at Guy Benjamin School on Monday.
The Community Council needs people to clear out invasive species and supervise students working on the project, Coldren said.
The organization, along with a lot of area residents, would also like to see the unsightly Dumpsters moved to a different location but so far no one has come up with a workable solution.
The Dumpsters sit almost in the mangroves that fringe Coral Harbor, causing environmental concerns because the garbage and what leaches out of the Dumpsters can contaminate the mangroves and the bay.
The recent spate of dry weather has created an odor issue near the Dumpsters, Botanist Gary Ray said, adding that leaves are decomposing, and because it's dry, the hydrogen sulfide given off during decomposition is escaping into the air. It's making the area smell very bad.
He said the situation will improve when it rains again.
Ray was hired by the Community Council to work on the corner section of the local government-owned property that runs about 330 feet by 125 feet. The section closest to Kinghill Road will see the installation of a walking path and planting of fruit trees.
In the remainder, some exotic species will be removed and native trees and sedges enhanced.
According to Ray, restoring the wetlands will serve many purposes, but flood control topped the list.
"The goal is to have the area for food production," Agriculture Commissioner Louis Petersen Jr.The property totals three acres and sits on both sides of Route 107. About a third of an acre sit on the seaward side of Route 107 and much of the remainder on the inland side is used by the Agriculture Department. It divided two of the acres into plots to be farmed by seven St. John residents.To volunteer to help with the project, call 776-2099 or email coralbaycommunitycouncil@hotmail.com. Visit www.coralbaycommunitycouncil.org for more information.