Scores of youngsters, their arms loaded with hundreds of new books, eagerly jumped into a summer of reading, as Gov. John deJongh's fourth Summer Reading Challenge got under way Saturday with a book distribution at Sunny Isle Shopping Center on St. Croix.
"I'm happy to take the reading challenge," said Alicia Joseph, a third grade student at Church of God Holiness Academy, as she looked over the tables filled with all sorts of books to choose from. "It's fun to read."
The children could choose from adventures, history, biographies, classics, horror and thrillers from Scholastic Books.
Miguel Ruiz, a 10-year-old student at Claude O. Markoe Elementary, said he'll read the seven books he picked out, then lend them to his friends or start his own library and read them again.
The program challenges children in kindergarten through eighth grade to read at least five books of their choice over the summer. The children are given tracking sheets to record their progress and books to start off with. Once the child has filled the sheet he or she can turn it in at a public library or any office of the governor. Students can choose to go on and read more than the required five books. They also have access to on-line books through the public library's website.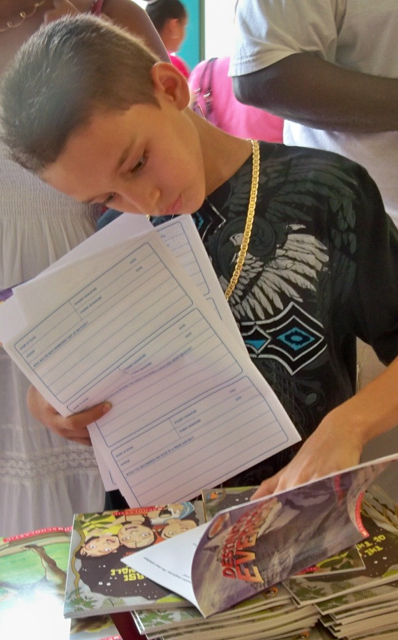 The school with the most participants will receive a prize at the closing ceremonies later this year. Those students who read five books will have the opportunity to join friends and peers for a by-invitation-only summer activity.
Bibiana Leo said she encourages her daughter Kayla Browne to read.
"The more she reads the more knowledge she gains," Leo said.
Ellie Hirsh, from the the Community Foundation of the Virgin Islands' Family Connection, was giving out "gently used" books to children from birth to second grade.
Angeli Ferdschneider, special assistant to the governor, said she is pleased to see so many avid readers.
The book distribution events, or "Book Fiestas," will be held on St. Thomas from 2 to 4 p.m. Saturday at Tutu Park Mall, and on St. John from 1 to 5 p.m. June 24 at Cruz Bay during the Carnival Food Fair.
The challenge is a partnership between the Office of the Governor, the Department of Education, and Learn-It Systems Corporation, which provided the books.