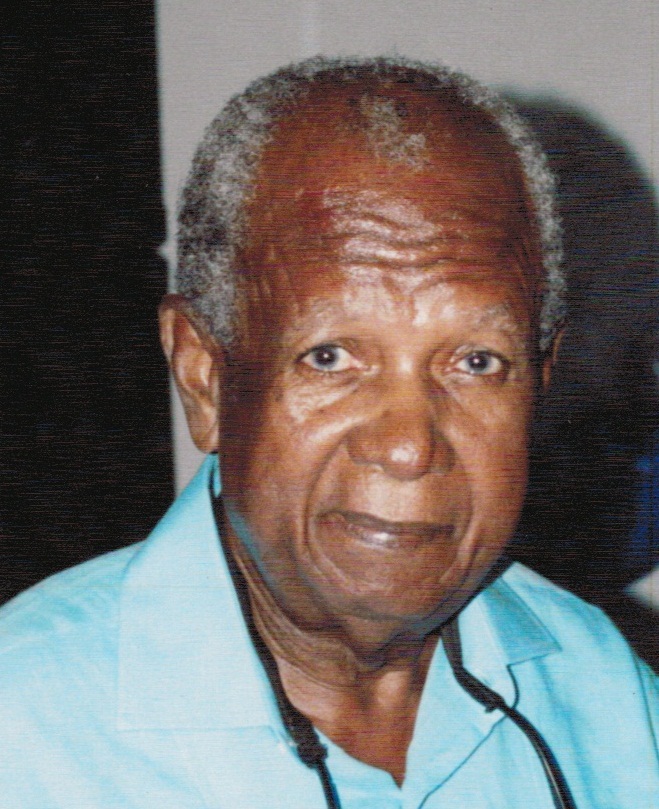 Elmer Harding James, also known as "Elmo," "Daddy" and "Grandfather," was born on Nov. 2, 1929, and died on May 30, 2012. He lived in Estate LaGrange and died at Juan Luis Hospital. He was 82 years old. He was preceded in death by his parents: Isaac Gatewood James and Victoria Tuitt-James; his sons: Elmer "Mistro" and Gilmore; brothers: Gustav, Hugh Sr., Ivan and Ralph James; sisters: Greta and Claudia; grandson, Ronaldo; niece, Andrea James; and great nephew, Hasani Fitzgerald
He is survived by his loving wife, Iris James; sons: Ralph, Elmo, Anthony, Randall, Ricardo, Taj, Ivan, and Kai; daughters: Anna, Juliet, Rudine, Esther, Judith, Sherlene; grandchildren: Desiree, Ralph Jr., Hugh, Ray-El, Ry'Neese, Tamaura, London, Chantel, Devin, Savannah, Soujourn, Orlando, Yukia, Nichole, Rainia, Shainia, Reanell, Roan, Shammara, Melanie, Mylon, Elmer "Binx," Alene "Jaynae," Tinejah, Kahiem, Tristian, Kheya, Hanife, Shayna, Brianna, Kai Jr. and Indica; and 41 great-grandchildren.
He is also survived by his sister, Gertrude Chinnery; brother, Otto James Sr.; nephews, Otto Jr., Devon, Jason, Kevin, Wayne, Winfield, Ivan G., Ivan, Carl Mike, Gustav, Hugh Jr., Halvor, Orlando James and Arthur Petersen Jr.; nieces, Ozetta Simnons, Samantha Holliday, Greta Garcia, Laurel Heckle, Erna Lynch, Magnolia Fitzgerald, Jennifer Njoya, Valerie James, Renee Powell-Matta, Rudine Powell, Faye Boschulte, Claudia James and Gertrude James-Allen; and 60 great nieces and nephews; sisters-in-law: Evelyn Messer-James, Veronica Williams and Eva James; brother-in-law, Freddy James; special cousins: Eleanor and Lacette Macedon; special friends: Luis Encarnacion, Rodney Edney, Joseph Graham aka Drummer Boy, Eric Hansen, Calvin Lang, Krim Ballentine, Felix Llanos, the Gittens family, Leslie Milliner, Rasbert Samuel, Arthur Chinnery, Malika Felix and family, Sayonara Williams and family, Angela Minto and family, the Matthews family and the Virgin Islands Police Department.
A viewing will take place at 9:30 a.m. followed by a funeral service at 10:30 a.m. on Monday, June 11, at St. Patrick's Catholic Church. Interment will be at Frederiksted Cemetery.
Professional Funeral Services Entrusted to: James Memorial Funeral Home Inc.
Located at 6AA La Grande Princesse Telephone: (340) 718-8663 Fax: (340) 718-8661