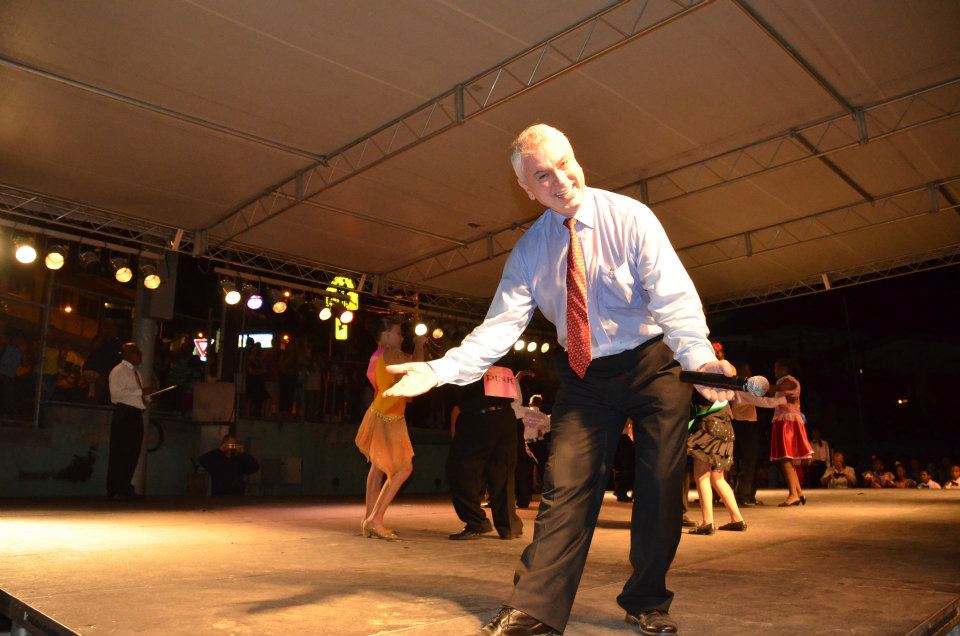 The stage will be aglow with local talent June 12 when Dancing Classrooms, a social development program for 5th and 8th grade children, holds its annual Colors of the Rainbow Team Match Competition, beginning at 6:30 p.m. at The Reichhold Center for the Arts on St. Thomas. Doors will open at 5:30 p.m. Admission is free and all are welcome. No tickets or reservations are necessary for this family-friendly event.
Fifth grade student teams from St. Thomas and St. John will represent the E. Benjamin Oliver School, Gifft Hill School, Guy Benjamin School, Joseph A. Gomez Elementary School, Julius E. Sprauve School and Ulla Muller Elementary School in a lively competition in the art of ballroom dance, to include the merengue, fox trot, rumba, tango and swing genres.
The evening is hosted by Pierre Dulaine, legendary ballroom dancer and inspiration for the award-winning documentary "Mad Hot Ballroom" and feature film "Take the Lead," starring Antonio Banderas. Dulaine launched Dancing Classrooms in New York City in 1994 with dance partner Yvonne Marceau. Since then it has expanded to schools all over the U.S.
Active in the territory since 2009, Dancing Classrooms Virgin Islands works to improve the educational experience of the territory's children through its 10-week residency program for 5th and 8th graders. The program is incorporated into the school day and becomes a required part of the curriculum for each child in the designated grade.
Dulaine says, "Nowadays, I don't say that the world is uncivil, but I believe we don't have enough civility in life and this is what this program teaches. If we can instill civility into children at the age of 10 or 11 – early enough in life – we can nurture it and have it grow with them. It will only make them better human beings."
A native of Palestine, Dulaine also grew up in Cyprus, England, Ireland and Jordan before his family settled in England, where he began his dance career at age 14. By 18, he had earned his associate's degree and by 21 he had passed his three major exams in Ballroom, Latin Dance and Olde Tyme, and was a full member of the Imperial Society of Teachers of Dancing. After two wins at the "Duel of the Giants" in London, and one more win at the "All England Professional Latin American Championship," Dulaine took a job on a cruise ship that traveled between New York and the Caribbean before deciding to make New York his permanent home and taking a job at Arthur Murray dance studio where he would meet his future dance partner Yvonne Marceau. Dulaine and Marceau would go on to win numerous awards together, and founded the American Ballroom Theater Company in 1984.
Dancing Classrooms Virgin Islands Inc. is a charitable non-profit organization under the Community Foundation of the Virgin Islands. Donations are tax-deductible to the full extent allowed by law. Donations can be made through CFVI at 774-6031 or visit
http://www.cfvi.net
. Or visit
www.dancingclassroomsvi.org
.
In addition to CFVI, other sponsors include VI Council on the Arts, Lana Vento Charitable Trust, First Bank and generous corporations and individuals.
For more information about the competition, call Katie Zaytoun, executive director at 513-9361.