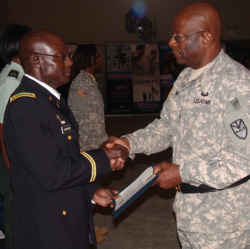 The Virgin Islands National Guard lost two-thirds of a century of service Sunday at a retirement ceremony honoring a pair of soldiers who between them have 66 years in uniform.
Lt. Col. Beresford F. Edwards and Staff Sgt. Agnes R. Lindsay were officially retired from the military during the ceremony at the Lt. Col. Lionel Jackson Armory at the Guard's facilities in Estate Bethlehem.
It was an emotional ceremony. When Edwards' family received an award, accepted by his daughter, Maria, for the sacrifices they made so that their father could serve, and then he was embraced by his son, Khalid, Edwards had to pause, remove his glasses and wipe his eyes.
Edwards was born on Antigua but lived most of his life n St. Croix, a point he made clear in his farewell remarks.
"I am a proud Virgin Islander, regardless of how you define it. This is my home, where I reside," he said. "I am also a proud American, and I am proud to have worn this uniform more than 36 years."
Edwards enlisted in the U.S. Army as an infantryman in 1975, after graduating from St. Croix Central High School. After training in South Carolina and Louisiana, he proceeded to serve in posts across the country and around the world. He completed his active military service in October 1979.
Upon leaving the Army in 1979, he enlisted in the 661st Military Police Company in the V.I. National Guard as a military policeman. He attended the second and final Officer Candidate School in the Virgin Islands, and was the distinguished honors graduate in 1983.
Along with an associate of arts degree from the University of the Virgin Islands and a bachelor of science degree from Charter Oak State College in Connecticut, Edwards' military education includes courses in leadership, military police officer training and counterterrorism, to name but a few.
His major assignments have included platoon leader and then commander of the 661st Military Police Company, training officer, mobilization readiness officer, Plans Operations and facilities engineer. In 2009 he was deployed to Guantanamo Bay, Cuba, where he served as deputy director of the Commissions Support Group.
His awards include the Meritorious Service Medal, the Army Commendation Medal, the Joint Service Achievement Medal, the Army Achievement Medal, the Good Conduct Medal, the Global War on Terrorism Expeditionary Medal and the Expert Infantry Badge, among many others. Additional awards he has received include the Virgin Islands Meritorious Service Medal, the Virgin Islands Long and Faithful Service Medal and the Virgin Islands Emergency Service Medal.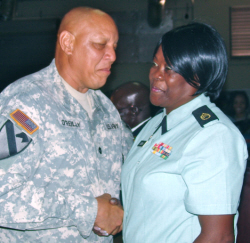 Edwards is married to Command Sgt. Major Delores Edwards. He said his service to his country often came at the expense of his family.
During the ceremony, Lindsay was joined at the front of the assembly by her great-niece Shanice Edwards, whom she raised since she was a baby.
Lindsay was born on Curacao and spent most of her adolescence on Montserrat before immigrating to St. Croix in 1969.
She enlisted in the Guard in 1982, saying that at the time "it seemed like an opportunity to make a little extra money." In retrospect, she told the audience of fellow soldiers, family and friends it gave her "the most memorable experiences of my life."
After completing basic training at Fort Jackson, S.C., in September 1982 with advanced training as a motor transport operator, she returned to the Virgin Islands and joined the 652nd Engineers Detachment Company.
Her work in motor transport has taken her around the world before she received her last assignment, as a human resource specialist in the Joint Force Headquarters. She has been the driver for seven former adjutants general of the V.I. National Guard – the late Major Gen. Earnest Morgan and Gens. Jean A. Romney, Robert Moorhead, Robert Hood, Rudolph Francis, Cleave McBean and Eddy L. Charles.
Lindsay's many awards and decoration include the Army Achievement Medal, Non-Commissioned Professional Development Ribbon, Army Service Ribbon, Army Reserve Component Achievement Medal, Global War on Terrorism Service Medal, National Defense Service Medal, Humanitarian Service Medal and the Virgin Islands Emergency Service Ribbon.
Gen. Elton Lewis presided over the ceremony.