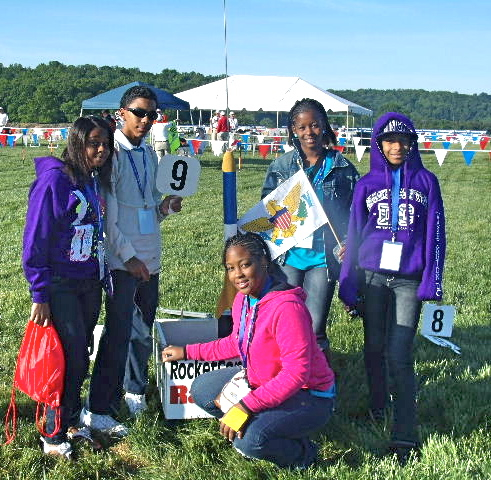 The U.S. Virgin Islands Senate passed a resolution commending the Elena Christian Junior High Rocketry Club for its work and study, and for capturing the Leadership and Team Spirit awards recently at the Team America Rocketry Challenge.
The challenge is a national contest held in Virginia. ECJHS was one of 100 schools competing in the finals. The schools Rocketry Club was one of almost 700 schools from across the United States and territories competing in the Team America Rocket Challenge. In 2010 it became the first school from outside the continental U.S. to qualify for the finals.
Specifically mentioned and commended by the lawmakers Friday were: club members, George John Jacobs, Pearl Farrell, Asiah White, David Gonzalez Jr., Keshawn Abel, Shawn Abel, Nisha Lazare, Jailine Manon, Hector Acosta, Luz De Los Santos, D'Artagnan Christiansen, Shantel Torres, Johanna Manon, Lucky Rutherford, Stephanie Bullock and Tekia Tashena-Smith. ECJH science teacher and club sponsor Steve Bullock was also commended.
Sens. Ronald Russell and Sammuel Sanes sponsored the resolution.
Team America Rocketry Challenge is the world's largest rocket contest, sponsored by the Aerospace Industries Association and the National Association of Rocketry. It was created in the fall of 2002 as a one-time celebration of the Centennial of Flight, but the enthusiasm about the event was so great the sponsors were were asked to hold the contest annually.
Approximately 7,000 students from across the nation compete each year. Teams design, build, and fly a model rocket that reaches a specific altitude for a specific duration, determined by a set of rules developed each year. The contest is designed to encourage students to study math and science and pursue careers in aerospace.
The Senate also also passed a resolution sponsored by Sen. Shawn-Michael Malone honoring and commending the Virgin Islands Special Olympics Team "for their outstanding achievement in the 2011 Special Olympics World Games in Athens, Greece."
The committee also approved an act sponsored by Malone and Sen. Carlton "Ital" Dowe posthumously honoring Ariel Melchior Jr. "for his many years of service to the Virgin Islands community," and naming Routes 38 and 134 on St. Thomas, commonly referred to as the Estate Thomas Drive, the Ariel Melchior Jr. Drive.
Melchior was the publisher of the Virgin Islands Daily News from 1977 through 2008, and authored the weekly column "One Moment Please" for decades. His father founded the paper in 1930, and Melchior edited the newspaper from 1963 through 1976, according to the legislative resolution.
Efrain Feliciano, Jr. was commended in a resolution sponsored by Malone for his contribution to the Virgin Islands community through his 27 years of civic contribution in the area of emergency rescue efforts.