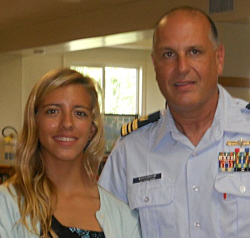 Antilles School senior Nikole "Nikki" Barnes was honored Friday with a certificate formally announcing her acceptance into the United States Coast Guard scholars program at Marion Military Institute in Alabama.
Lt. Cmdr. Daniel Buchsbaum, supervisor of the St. Thomas Marine Safety Detachment for the Coast Guard, presented Barnes with the certificate in front of friends and family who gathered at the Antilles School library in support of her achievement.
"It's really an accomplishment," Buchsbaum said.
The Coast Guard boasts the "oldest life-saving service in the world," according to its website. Recruiters seek out applicants who excel in community service, academics and sports.
That won't be a problem for Barnes, who is captain of the Antilles sailing team and is considered one of the top young sailors in the Caribbean. In addition, she raised $4,000 baking and selling cookies for children who cannot afford sailing lessons. Barnes has also been involved in dance for years
Time management, said Barnes's mother Carol Bareuther, was crucial to Barnes's success.
"Her schedule is very active, and it's going to remain that way," Bareuther said.
"With a Coast Guard education, you have opportunities. We tried to give her the opportunities, but it's been up to her to make the choices and do the work," said Bareuther and Dean Barnes, Nikki's father.
Over 5,000 students apply to the Coast Guard Academy each year. Two-hundred and sixty were accepted this year and only 60 into the scholar program, said Buchsbaum.
The prep school prepares students for the rigorous academic and athletic programs of the academy, and military life thereafter.
"I think it'll be a real learning experience for me," said Nikki. "It's one of the few military branches that focuses on saving lives. That's what I want to do."
Barnes leaves for Connecticut July 23 where she will attend the academy for a few weeks before going to Alabama.