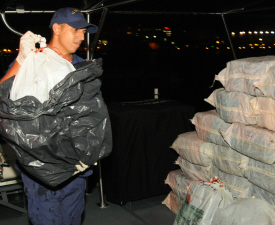 Cocaine valued at more than $25 million was seized by federal officials in an action that occurred at sea, 50 miles south of St. Croix, according to a statement Friday by the U.S. Coast Guard.
"It was a great day for the Coast Guard, the Drug Enforcement Agency and the Customs and Border Patrol," said Coast Guard spokesman Ricardo Castrodad.
According to the Coast Guard, while on a routine patrol on the evening of Sunday, May 20, agents of the U.S. Customs and Border Patrol, aboard a marine surveillance aircraft, spotted four men aboard a suspicious vessel, a type the Drug Enforcement Agency referred to as a "go-fast boat."
The Coast Guard Cutter Sapelo, which was patrolling the area at the time, was diverted to interdict the suspect vessel.
The crew of the CBP marine patrol aircraft reported the men onboard the suspect vessel began jettisoning objects overboard and tried to flee at a high rate of speed after they noticed the law enforcement vessel. Sapelo pursued but the "go fast" boat lived up to its name and escaped.
The crew of Sapelo returned to the area where the cargo was thrown overboard and conducted an extensive two-day search, recovering 50 bales. Each bale contained approximately 25 kilograms of cocaine for a total weight of 1,288 kilograms of cocaine.
Sapelo transported the drugs to Coast Guard Base San Juan Tuesday night, where they transferred custody to awaiting Drug Enforcement Administration Special agents.
The seized drugs weighed about 2,833 pounds, or 1.4 tons, and had an estimated street value of more than $25 million dollars, the Coast Guard said.
While the Virgin Islands Police Department was not directly involved in the action at sea, a statement from the U.S. Drug Enforcement Agency thanked the V.I.P.D. Blue Lightning team "for its incredible support and assistance." Also credited with assistance were DEA St. Croix, and the Puerto Rico Police Department.
"The outstanding efforts and collaboration between all law enforcement authorities are responsible for this successful disruption and seizure, which prevented a major drug shipment from reaching our shores," said Coast Guard Capt. Drew Pearson, Sector San Juan commander.
"This interdiction is part of CBP's continued effort to work with fellow federal, state, local, and international partners to combat individuals and criminal organizations that pose a threat to our communities," said Johnny Morales, Director of Air Operations for CBP's Caribbean Air and Marine Branch.