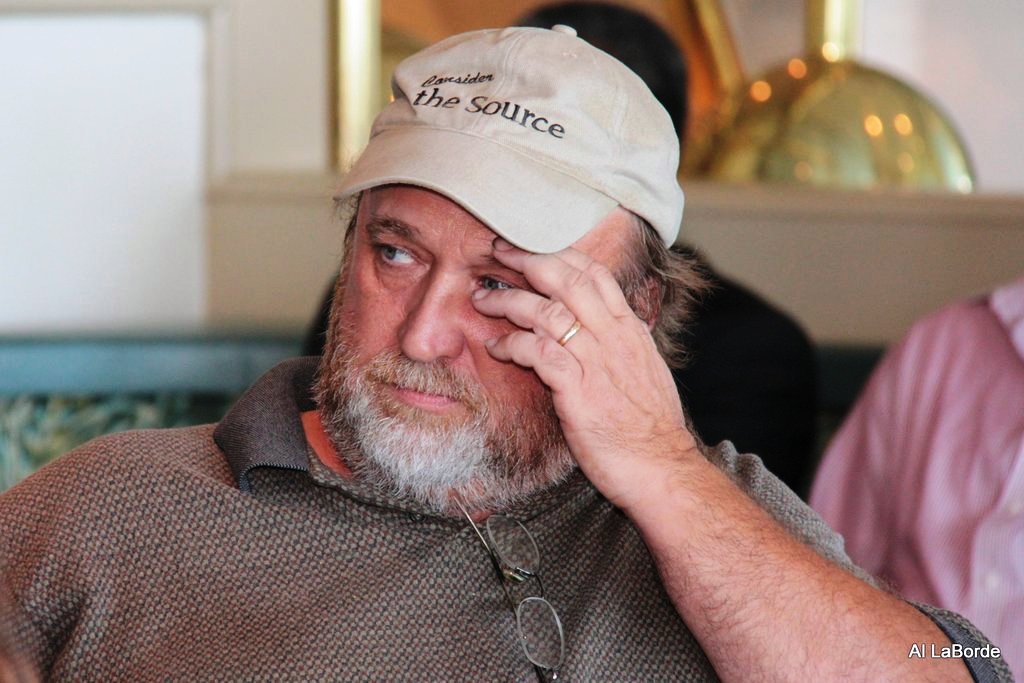 Reactions from recipients of the Rotary Club of St. Thomas II's annual Person of the Year award have ranged from "Wow!" (Joe Aubain, 2006) to more elaborate expressions of thanks or wonder. My Brothers Workshop founder and director, Scott Bradley, walked warily to the podium Wednesday clad in his usual working outfit, jeans and baseball hat.
He greeted the applause and standing ovation with a simple, "Thank you; I had no idea," and almost stepped out of the limelight, but not before accepting the Lladro statuette of knight-errant Don Quixote, the club's symbol of service over self, from perennial presenter Elliot "Mac" Davis, Person of the Year committee chairman.
Davis, who prides himself on his proven ability to keep the award winner a secret until the last possible moment, said Wednesday, "I have raised subterfuge to an art form."
True. In fact, he confided before the ceremony for the 33rd year of the awards that he had "thought of a new twist" this year. And he had indeed: switching the gender of the recipient leading up to his announcement.
"Her (read his) story begins when she came to these islands almost a decade ago and promptly recognized the enormous need for someone to address a lost generation of young men, crying out for guidance and leadership, for someone to care about them."
Bradley began My Brother's Workshop in 2008 in partnership with the St. Thomas Reformed Church, with whom he has found a willing partner in helping troubled youth in the states. The program has taken between 80 and 100 young men between the ages of 16-24 off the streets and into responsible jobs, according to its website.
Davis said Bradley "saw that this experience working with at-risk youth was destined to be prologue for the task at hand here. With that in mind, he found his passion….commencing a new career devoted to intervening in young lives, to provide them with work ethic and the skill sets that would be marketable in our modern economy."
A measure of Bradley's success was voiced by Clarence Payne, Department of Human Services district director, which has referred young men to Bradley.
"They could name this award for him," Payne said after the ceremony. "They couldn't have selected a more representative person for such an award."
"His agency works diligently with young people. He's always there for them," Payne said. "Even though they're not coming from the best situations, he gets the best from them."
Payne noted that Bradley's acceptance speech was typical, brief and humble. "It's just like Scott," he said. "He is not a man of many words. He is a giant."
Davis said that Bradley shares many traits with his predecessors. "First and foremost, he is as humble as humble gets," Davis said.
Davis said Bradley's work – training and employing the young men in trades, redirecting their lives, performing quality work and developing a good reputation – "takes someone with a very big heart."
"He goes to great ends," Davis continued, "to maintain his connection with the young men who have surrendered themselves into his care. With cell phone always on….always ready to hear, to listen and to advise, he literally walks the streets where many wouldn't feel comfortable walking to find his charges."
Davis cited three stories representative of the scores of young men whose lives have been saved by Bradley, including one who he had placed in a full-time job only to become a victim of gun violence. Bradley went immediately to the hospital, sticking with the young man and working with him until he is able to find his way again.
Another, Davis said, is a boy who has been shot five times in his young life. "He, too," Davis said, has graduated from the program of personal guidance that our recipient personifies. This fellow now works three jobs, own his own car, has his own apartment and provides financial support for his family."
Davis concluded, "If ever there was a person who deserves celebration such as our Person of the Year award it is Scott Bradley. His name is engraved at the base of the Don Quixote statuette for many reasons, primary among them his poetic pursuit of his own impossible dream."
Then, coyly, Davis the showman said, "Now, wait a minute. Oh dear, I think I might have misspoken. Have I been saying she all along? Forgive me, I meant he."
Speaking after the ceremony, Bradley was no more loquacious. Standing with his wife, Susan, and workshop acting director, Christina Luton, Bradley really didn't need to say a word. It was all in his face.
(In the interest of clarity, the Source has taken poetic license referring to Bradley as he.)
A list of former winners, ranging from former governors, a congressman, mothers and others who have contributed to making St. Thomas a better community through being of service to their fellows, includes:
– 2011 Diana White
– 2010 Therese Hodge
– 2009 Candia Petersen
– 2009 Steven van Beverhoudt
– 2007 Cecile deJongh
– 2006 Joe Aubain
– 2005 Suzanne Robinson
– 2004 Rodney Miller
– 2003 LaVerne Ragster
– 2002 Elliot "Mac" Davis
– 2001 Shaun A. Pennington
– 2000 John P. deJongh Jr.
– 1999 Randy Knight
– 1998 Nick Pourzal
– 1997 Lorraine Berry
– 1996 Vinnie Mohanani
– 1995 Juel T.R. Molloy
– 1994 Edward E. Thomas Sr.
– 1993 Leona Bryant
– 1992 Verne A. Hodge
– 1991 Athniel "Addie" Ottley
– 1990 Dilsa Capdeville
– 1989 Ron de Lugo
– 1988 Irvin "Brownie" Brown
– 1987 Alexander A. Farrelly
– 1986 Dr. Alfred O. Heath- 1985 Calvin Wheatley
– 1984 Costas Coulianos
– 1983 Dr. Roy L. Schneider
– 1982 Albert A. Aubain
– 1981 Wilbur "Bill" Lamotta