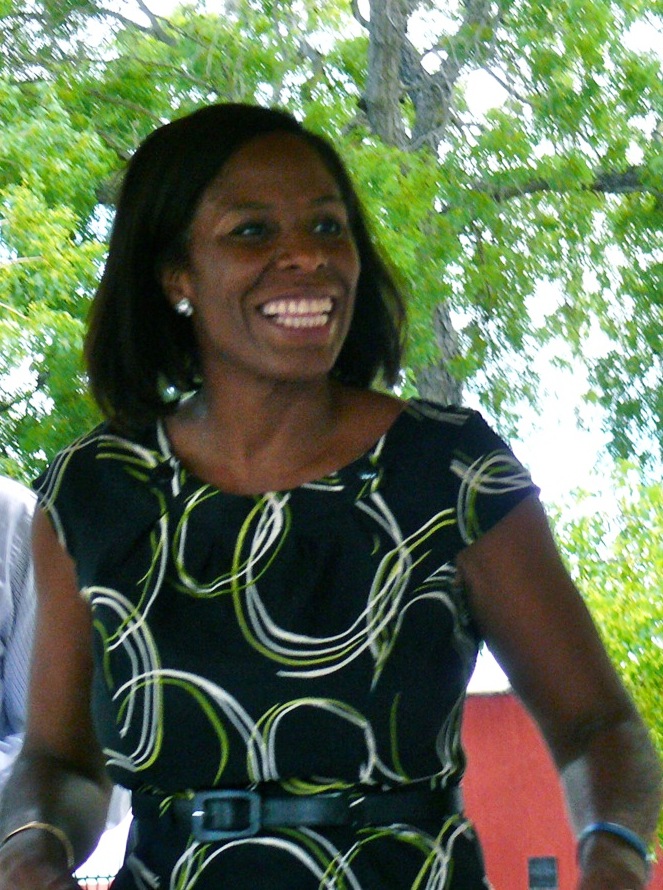 Well known St. Croix attorney Stacey Plaskett metaphorically threw her hat in the ring Tuesday, announcing she plans to challenge Delegate Donna Christensen in the Democratic Party primary later this year.
A handful of supporters, friends and family gathered in Frederiksted's Buddhoe Park to hear Plaskett make her case for the office. The would-be contender focused on her roots in the community and experience in Washington, D.C. Plaskett said she grew up between her grandmother's home in the John F. Kennedy housing community, her grandfather's home in Golden Rock and the projects of Brooklyn, N.Y.
"Some people would ask what experience do I have to take on the task of representing the Virgin Islands in Congress," Plaskett said, her husband Jonathan Buckney-Small at her side. "Why not run for the local Senate first?" she asked.
To answer that question, Plaskett described her life history and her extensive D.C. -related work experience. Her family was from St. Croix and she grew up between New York and St. Croix, she said, adding that after getting her undergraduate degree from Georgetown University in Washington, D.C., she worked in the district with then-Delegate Ron de Lugo, then with a D.C. lobbying firm before going on to law school at American University College of Law while working full time with three small children.
After law school, as a New York prosecutor, she was counsel to the House Ethics Committee advising and investigating members of Congress, she said. She also worked for United Healthgroup, on government insurance, Medicaid and Medicare, she said. United Healthgroup is the nation's largest health insurance company.
"My knowledge of economic development , project finance, public funding, federal grants and other tools for growth give me wider range and depth of skill sets which meet the needs of the Virgin Islands at this time in Washington," she said.
As to why voters should select her over incumbent Delegate Donna Christensen, Plaskett said she would work harder with other members of Congress to find cosponsors for legislation affecting the territory and push harder to get longstanding goals addressed by Congress.
"Some have also said that during this time of crisis we should stay the course with the representative we have that the seniority will help us," Plaskett said. "What have we gained from that security thus far? Is the Medicaid cap lifted? Is the postal service fixed? Did we get any rebate from the gasoline excise tax? Are we going to do the same thing over and over and expecting different results?" she said.
Christensen has pushed Congress for years to lift federal caps on Medicaid payments to the territory, but to little avail. The territorial delegate has no vote on the floor and may only vote in committee if the vote does not decide the fate of the bill, limiting the influence of the position.
In the past, Christensen has suggested a rebate on gasoline taxes was unrealistic, partly because the tax was not actually levied on Hovensa, but on stateside distributors who buy gasoline in bulk. In a 1999 editorial in the Source, Christensen questioned whether states would go along with allocating tax revenues collected from their residents to the U.S. Virgin Islands, when the territory has the option of charging its own excise tax upon its own residents. (See related links below.)
Asked to elaborate on how she differed in policy from Christensen, Plaskett pointed to Christensen's support for a chief financial officer overseeing territorial finances as an example of the delegate being "really out of touch with the electorate."
"We do not need to go back to government by admiralty and colonialism," Plaskett said. "I think we need to create more transparency and accountability in local government, rather than have the federal government impose that on us."
Plaskett may have an uphill battle. An eight-term incumbent, Christensen has rarely faced serious competition in the party primary or in the general election. In 2010, Christensen – sharing the field with three competitors – pulled in 71.2 percent of the votes cast. In 2008, she ran unopposed. In 2004 and 2006, she handily tromped well-financed independent challenger Warren Mosler by double-digit margins.