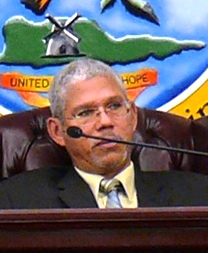 Senate President Ronald Russell is seeking to restrict the authority of Jeff Nelson, chief executive officer of the Juan F. Luis Hospital on St. Croix, but the hospital chair said Thursday the board supports the CEO "100 percent."
Russell sent a letter to Lynn Millin-Maduro, chair of the Territorial Board of the Virgin Islands Government Hospital and Facilities Corp., pointing to what he felt were problems with the authority granted to Nelson.
The Source left phone messages for Millin-Maduro, who is also commissioner of the Department of Property and Procurement, and for Nelson, but neither returned the call by late Thursday afternoon.
In his letter Russell expressed concern about the scope of authority Nelson was granted by the hospital, calling it "very problematic."
The senator said he was concerned that Nelson is both CEO and chief financial officer, which Russell said "should be avoided at any cost." He said contracts have been executed without appropriate advertisement for bids or competitive negotiation. He also questioned Nelson's decision to eliminate the titles/positions of licensed practical nurse and certified nursing assistant at JFL, which caused the termination of 85 employees.
Russell said that decision "has resulted in uncertainty regarding patient care."
Attorney Kye Walker, chair of the district board, which directly governs the JFL Hospital under the aegis of the Territorial Board, said she thinks Russell has mistaken the hospital for a central government agency.
"The senator may be comparing apples and oranges," Walker said. "He's comparing the authority the board gave to Mr. Nelson to the limitations placed on commissioners of government agencies. We believe the authority granted to Mr. Nelson isconsistent with the CEO of an autonomous or semi-autonomous agency" such as the hospital, she said.
Nelson was hired a year ago as a "turn-around" expert, charged with pulling the hospital out of the economic slide that was threatening to bury it. While the budget red ink has been mostly stemmed, the hospital is still $28 million in debt.
In an effort to increase revenues by increasing the number of procedures performed at JFL, Nelson in February announced that the hospital was shifting to a "registered nurse dominant" model in an effort to become a "magnet hospital." As a result, 85 licensed practical nurses and certified nursing aides were laid off.
Russell told the JFL board at its Feb. 29 meeting that the Senate would examine the structure of hospital management in the territory, saying "Everything is on the table." At that same meeting, the board gave Nelson his annual review, praising the job he has done.
The hospital board is scheduled to meet Wednesday evening. There has been no announcement of when the next Territorial Board meeting will be held.