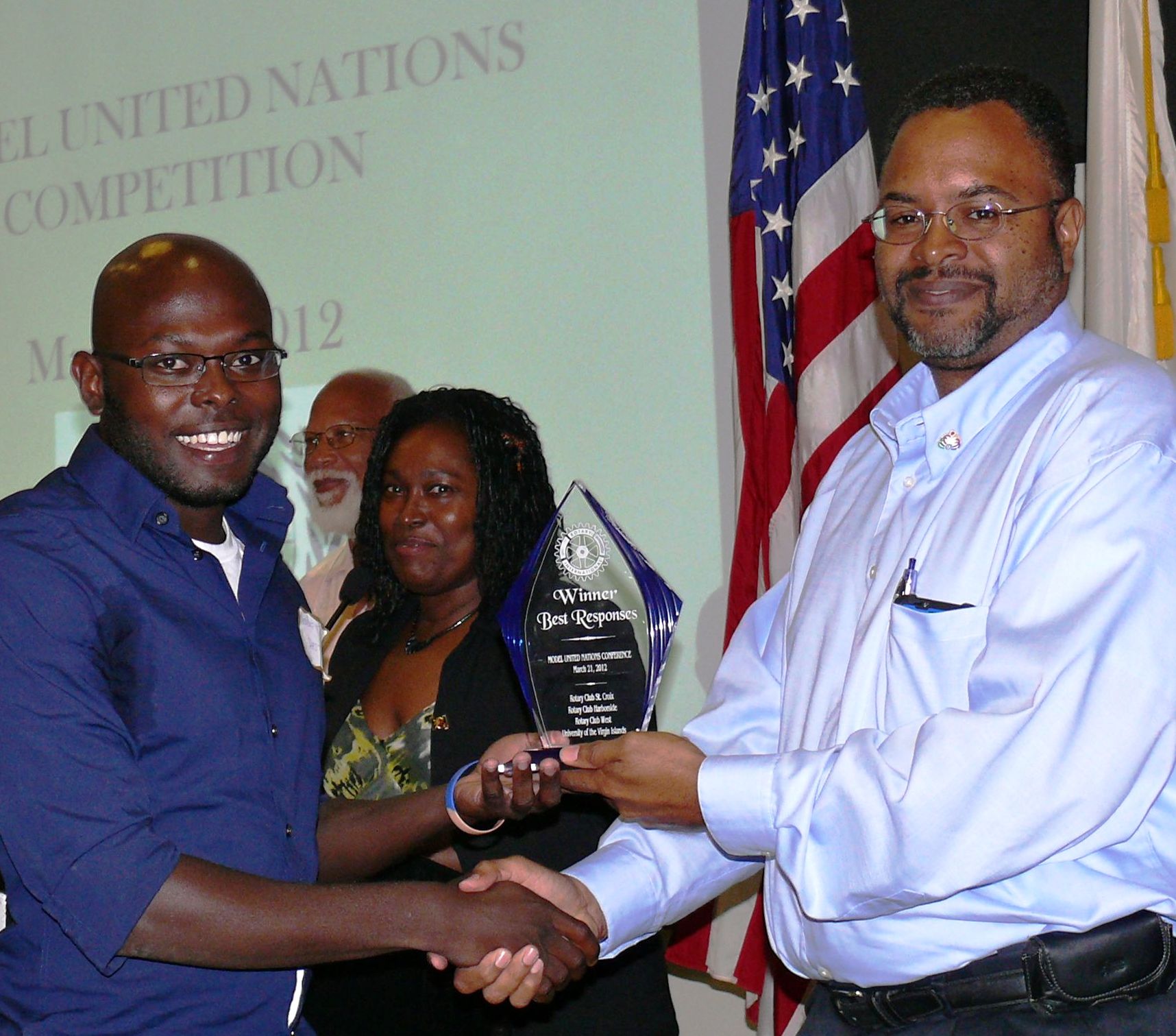 Urging less international intervention and more cooperation with Haiti, a soft-spoken delivery and a firm grasp of history earned senior Maxence Jeanty a clean sweep of all three top prizes at the University of the Virgin Islands Model United Nations Competition on Wednesday, winning the trophy for St. Thomas this year.
The competition simulated committees and programs of the U.N., with St. Croix students representing Cuba and students from St. Thomas campus representing Haiti. They discussed the Cuban embargo, racism, corruption, interventionism, the cholera epidemic, deforestation and other areas of concern.
In the past century, there have been several major international interventions in Haiti, all of which had major unintended consequences that Jeanty feels flowed from a short-sighted focus on immediate goals. From 1915 to 1934, the United States intervened and spent money on infrastructure, but ultimately paved the road for later problems, he said.
"The U.S. came in for many reasons, but the main reason is the U.S. did not want a German foothold in the Caribbean," Jeanty said. "It improved the road system, hospitals and schools … but the bad thing is, it increased racial tensions between the black and mulatto populations and set the scene for the (Francois 'Papa Doc') Duvalier regime," he said.
Duvalier and his son were responsible for thousands of murders, rapes, kidnappings and other crimes through his gang, the Ton Ton Macoute, he said.
More recently, the U.S. intervened in 1994 to restore Jean-Bertrand Aristide to power after a military coup in 1991, then again in 2004, with some U.N. and allied help, to secure the country after a coup overthrew an increasingly undemocratic Aristide, Jeanty said.
While some of these actions were well-intentioned, they took a short-sighted approach and did not address the root causes of trouble, Jeanty argued, urging the U.N. to work together with Haiti instead of acting unilaterally.
He offered a list of specific actions the U.N. or its members could take that would help, from canceling foreign debt accumulated during the dictatorial Duvalier regimes to renaming the current U.N. mission to Haiti.
Another example Jeanty gave was the U.S. disbanding the Haitian military in 1995. He said it reduced the threat of a military takeover but it hurt the country in the long run.
Rotarian Rupert Ross, one of the judges of the competition, asked Jeanty why disbanding the military was a mistake.
"What I meant is, it helped in the short run, but there was no mechanism to keep order," Jeanty replied. "In the (2010) earthquake, there should have been a national force to help people out, but instead it was the Haitian people themselves who coordinated the response. In retrospect it was a major blunder."
Jeanty won top prize in all three categories of the competition: best delivery, best overall presentation and best position paper, a sweep which happened once before, at the first UVI Model U.N. in 2008, said Rotarian Sonia Boyce, who acted as master of ceremonies at the event.
Wednesday's competition was the fourth for the two campuses, with St. Croix winning twice and St. Thomas winning twice, Boyce said.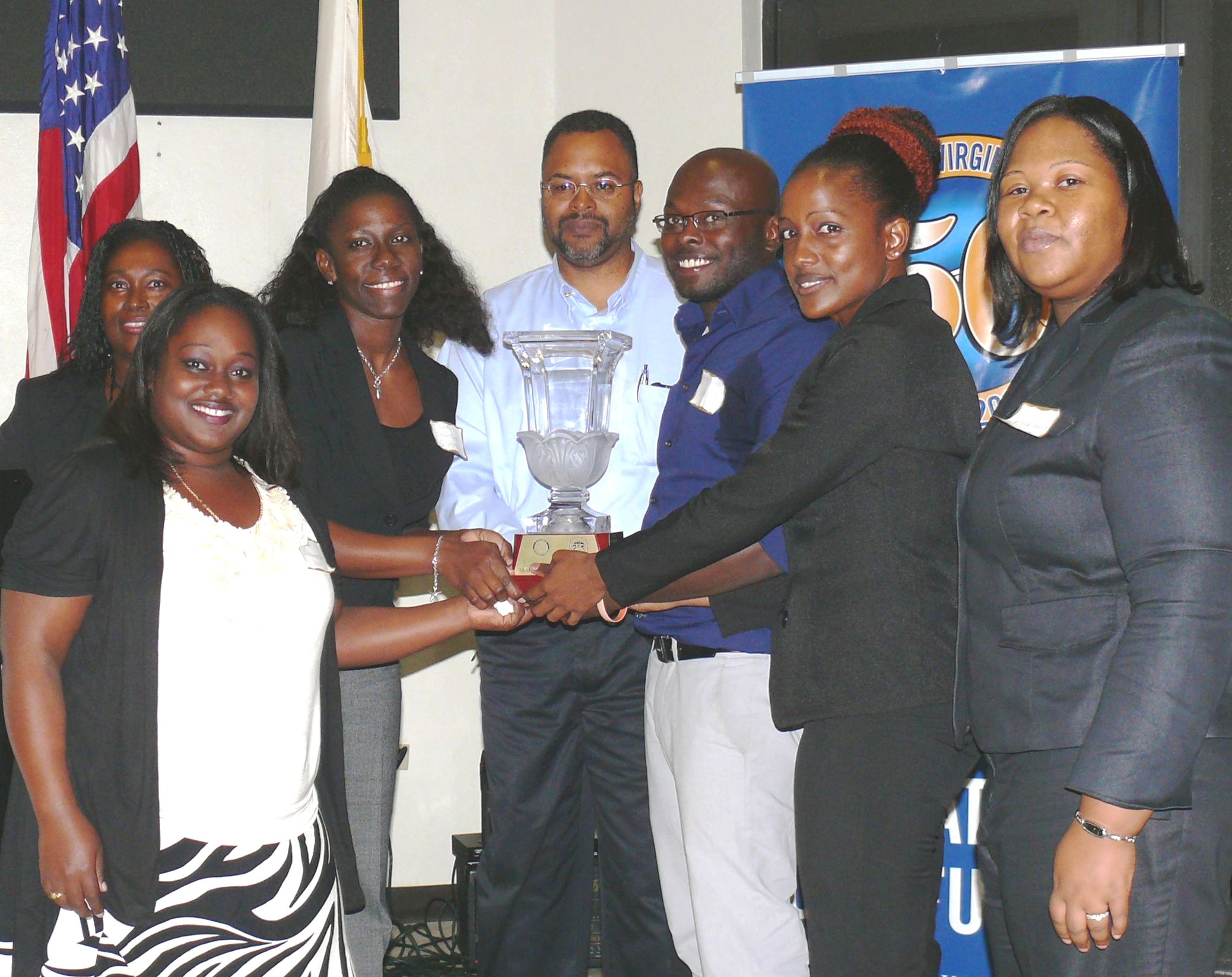 Born in Haiti and raised between the island and his father's home in Indiana, Jeanty moved to the U.S. full-time at the age of 14. A social science major, he chose UVI because he was attracted to the "diverse cultures" of the territory.
"This has to be the ultimate social science experiment to come live here, because with such a diverse mix of cultures, it really is a melting pot," Jeanty said. After graduation, he hopes to go on to graduate school to study diplomacy and eventually see if he can return to Haiti and help out.
Jeanty may have earned the trophy for St. Thomas, but there were many well-documented and clearly articulated arguments made Wednesday from all the students.
St. Croix student JoAnn Thomas-Lewis pleaded for help with an ongoing food shortage in Cuba, urging an end to the U.S. boycott of the country and technical assistance to help it maximize food production.
St. Thomas student Conisha Gumbs asked the U.N. to act now to forestall a major cholera epidemic in Haiti by sending in water purification teams and equipment, helping the country with sanitation and distributing fresh water and supplies.
St. Croix student Dizhan Hicks pleaded for the end of the U.S. embargo against Cuba, pointing out that despite a well-regarded healthcare system, Cuba was unable to import many new drugs because they are partially or completely made in the U.S. This puts Cuban citizens unnecessarily at risk, she said.
St. Thomas' Lana Letang tried to convince the U.N. to help Haiti with a major reforestation effort, focusing not just on planting trees, but on helping the country produce cooking fuel from recycled materials.
Rishina Williams of St. Croix pleaded the case that, despite a formally egalitarian society, racism toward Cubans with African ancestors is a serious, unacknowledged problem and black Cubans are not considered for the same jobs nor given the same salaries as their more European counterparts.
Holding a bottle of dirty brown water to emphasize the lack of good drinking water in Haiti, Deleon Richardson of St. Thomas made the case for outside help in setting up a real potable water delivery system and a proper sewage disposal system for the country.
St. Croix's Karisa Danielson told of major corruption arrests, asking for international help in curbing corruption.
The UVI Model U.N. Competition is an initiative of the College of Liberal Arts and Social Sciences and is sponsored by St. Croix Rotary Clubs West and Harborside. Most of the judges were Rotary volunteers.