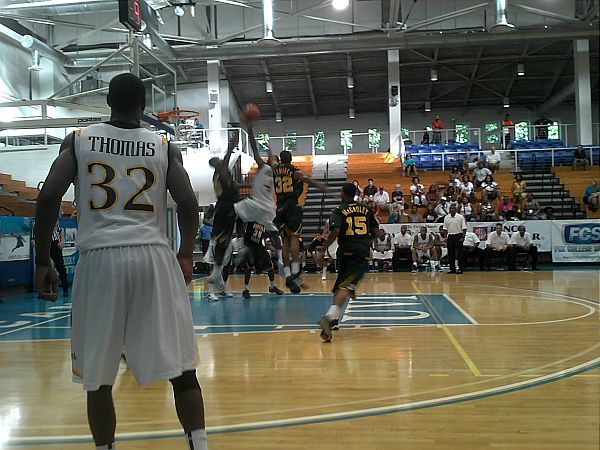 After three complete days of basketball at the UVI Sports and Fitness Center, field favorite Marquette will square off against Norfolk State on Monday night for the 12th annual Paradise Jam men's championship.
The competition has certainly been intense. On Friday, Drexel and Norfolk State kicked off the Jam, with Norfolk State jumping out to a 28 – 18 halftime lead. But Drexel came out of the break running, and the 10-point lead had disappeared by the 13:18 mark when Frantz Massenat's layup gave Drexel a 31-32 lead. Drexel's 14-3 run to start the second had Norfolk State reeling, but when the Spartans' Chris McEachin made a layup and got fouled, his team took a 33-34 lead with about 12 minutes left to go.
From there, the Spartans went on a run of their own, and when Kyle O'Quinn hit one of two free throws after being fouled on a dunk attempt, Norfolk State found themselves up 11, 33-44. Norfolk State would go onto the 61-56 win.
McEachin led the Spartans with 15 points, followed by O'Quinn with 11 points and 12 rebounds. For Drexel, Damion Lee had 21 points, while Massenat had 10, with 6 rebounds.
Norfolk State's second game came Sunday against TCU, which advanced after beating the Virginia Cavaliers 57-55 during the tournament's second day. The first half was a back-and-forth affair, with both teams taking two leads. Going into the break, Norfolk State had a 28-26 lead.
In the second half, the Spartans came out pushing the pace, and by the 12:36 mark, a McEachin three-pointer gave them a 43-32 lead. The Spartans managed to push their lead as far as 17 when McEachin again hit a layup off of a Brandon Wheeless assist, making the score 50-33. Norfolk State held on for the 66-53 win.
O'Quinn led the way with 17 points and 12 rebounds, followed by McEachin with 16 points. For TCU, Adrick McKinney had 15 points and 6 rebounds, while Hank Thorns followed with 12 points.
Marquette's road was a lot easier, as the team blew out Winthrop 95-73 on Friday and beat Ole Miss on Sunday by 30, 96-66.
Ole Miss was first to put points on the board, taking the 2-0 lead off of a Dundrecous Nelson layup, but that would be their only lead of the game. The Rebels hung around for a while, but by the 13:12 mark in the first half, a Chris Otule layup gave Marquette an 11-point lead, `17-6. By halftime, the lead was 22, 51-29. The second half was all Marquette, who went on to the win.
Jae Crowder led the Golden Eagles with 25 points, followed by Darius Johnson-Odom with 20. For the Rebels, Terrance Henry had 19, followed by Maurice Aniefiok with 10.