Students at the University of the Virgin Islands reached out Tuesday to a much younger group of students at the first "Planting the Seed," a daylong introduction to college life.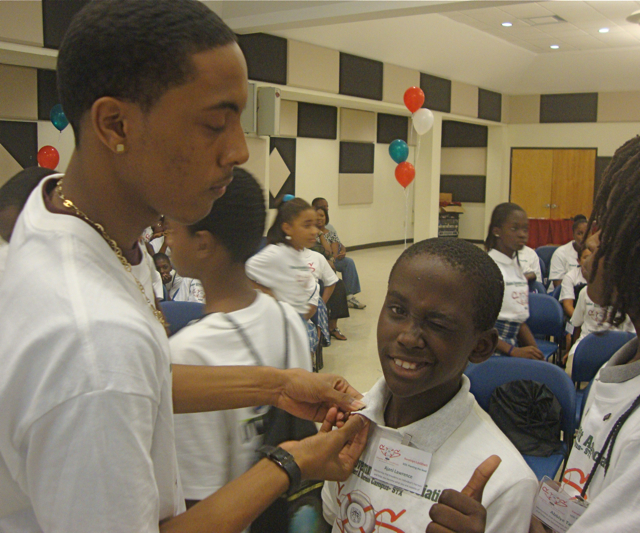 The program is an initiative of the Shadowing Our Students Committee (SOS) of the Student Government Association on the university's St. Croix campus.
SOS has worked with 11th and 12th graders with some success, helping them see how college can be part of their lives, said Kevin Dixon, a junior at UVI and chairman of the SOS committee. This year, the group decided to try reaching potential students much earlier, inviting fifth and sixth graders to campus to learn about what college life may offer them.
"We want to show them the benefits of higher education and the opportunities here at UVI," Dixon said.
By getting the students to think about college as a part of their life early, they hope to plant the seed for a stronger UVI in the near future. As the potential students came in, each was presented with a T-shirt for the day bearing the motto: "UVI – My First Choice."
The day started with a pep rally atmosphere, as UVI President David Hall encouraged the students to "Dream big."
"The seed we are trying to plant in you today … will bring an excellent harvest in the future," he said.
From time to time, people may tell them that college isn't for everyone, but Hall told the campus's young guests that that wasn't true.
"College is not beyond your grasp, it is within your hand," he said. ""College is for everyone. There is nothing standing in the way of going to college except you."
After hearing from college officials about how to apply for college and how to finance it – and learning that an education at UVI costs far less than most mainland colleges – the 120 youngsters were allowed to sign up for a class in one of five areas – computers, leadership, nursing, "stepping," and career choices.
Before breaking for lunch, they toured the campus, and afterwards, returned to the school's Great Hall.
There they heard from the keynote speaker, Derval Prince, an information technology specialist on the campus and UVI graduate.
"Everything around you wants your attention, but they don't want to share your attention with anything else," Prince said.
Students need to focus on the important things – especially their future – and not sell themselves short, he said.
In the final part of the day, the students "graduated." Each one came forward and one of the 30 volunteer college students pinned a UVI pin on their shirt.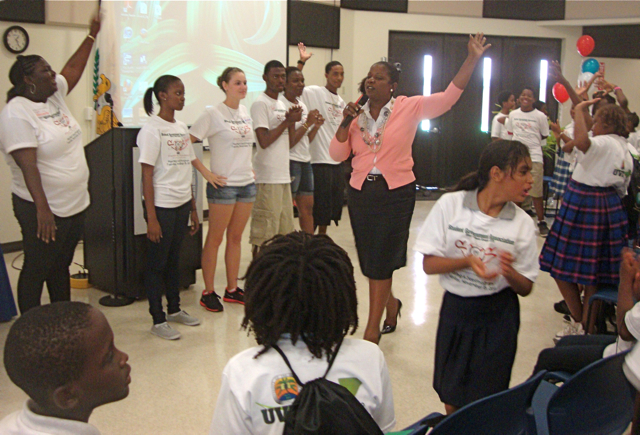 The students returned to Eulalie Rivera Elementary School, Claude O. Markoe Elementary School, Ricardo Richards Elementary School, Randolph Lockhart Christian School, and St. Croix Seventh-day Adventist School wearing the pin and the college T-shirt, and if the program was successful, they will be dreaming big dreams about what they can accomplish with a higher education.