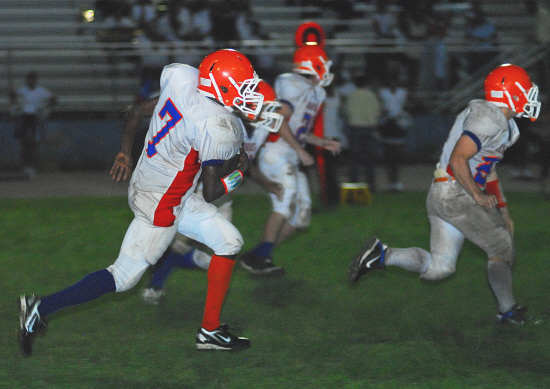 The St. Thomas Private Schools Arawak scored three times in the first half, while holding the St. Croix Educational Complex Barracudas scoreless to win their first game of the Virgin Islands IAA varsity tackle football season.
The Arawak, after losing a couple of close contest to Charlotte Amalie and Ivanna Eudora Kean high schools on St. Thomas, started fast, knocking the Barracudas on their heels and keeping them there for most of the contest.
The visitors got their first touchdown when quarterback Nathan Braithwaite connected with wide-out Elijah Jones in the first quarter. Tailback Richard Driscol powered his way into the end zone for the two point conversion and an 8-0 Arawak lead.
On defense the Arawak were in total control with their aggressive play. They were flying at the ball and rushing the passer with such intensity that they kept the Barracudas offense in disarray for three-plus quarters.
The Arawak got touchdown runs from Jakeem Attidore and Nick Heileman to close out the first half ahead 22-0 after coming up short on one of two extra point attempts.
After a scoreless third quarter, the Arawak extended their lead to 30-0 on a QB keeper by Braithwaite for a touchdown and a successful two-point conversion.
The Barracudas were able to avoid the shutout with 4:30 left in the game, when senior running back B.J. Cruel took a handoff deep in his own territory and rumbled some 75 yards for the lone touchdown. A successful two-point conversion left the final score at 30-8.
For Arawak head coach Luke Neely it was a welcome victory, but his team still has work to do.
"I let the guys know that we had to come here and play hard." said the coach. "Coming in here 0-2, I know that a loss would end any hopes of a run at the championship, so I told the guys that we have to be ready.
":Our defense played great — in fact, they accounted for almost as much points at the offense. On offense, however, we were not very disciplined, and we have a lot of things that we need to work on."