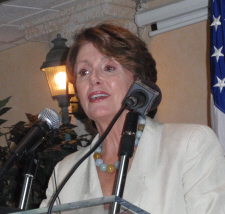 The first woman in American history to be elected Speaker of the U.S. House of Representatives spent her honeymoon on St. Croix some 48 years ago. Nancy Pelosi paid another visit to the islands Saturday, this time at the Windward Passage Hotel on St. Thomas at the invitation of longtime colleague, Delegate to Congress Donna Christensen, to talk about jobs, veterans' issues and the Small Business Administration.
It may have been a less romantic trip, but the congresswoman appeared to relish it nonetheless.
The petite Pelosi (D-Calif.) was immaculately groomed in a soft beige business suit, feminine and focusing on her audience with big brown eyes. Christensen, who has worked with Pelosi for the past 15 years, pointed out in her introduction that Pelosi "may be tiny, feminine, but she is tough as nails. I always felt getting to know her, what a strong leader she was. It endeared her to me."
Pelosi first made history in November 2002, when House Democrats elected her the first woman to lead a major political party. Pelosi served as Democratic Leader from 2003 to 2007 and previously served as House Democratic Whip in 2002. She represents California's 8th district.
Christensen said, "The 110th and the 111th congresses with Nancy Pelosi as speaker were some of the most productive in history."
"She (Pelosi) made sure I got on the House Energy and Commerce Committee," Christensen said. "I had been on the committee in the 111th Congress. She made sure I got back in the 112th."
The Energy and Commerce Committee covers a wide range of issues to include health, energy independence, climate change, telecommunications, broadband and commercial and consumer issues with oversight over many federal departments and agencies.
Pelosi praised Christensen's contributions to the nation and to the territory. "I would like you to know that Delegate Christensen is held in high regard in Washington, as well as here in the territory. She is the first female doctor ever elected to Congress, the first woman ever elected to represent an offshore territory, and a member of the Black Caucus Health Brain Trust."
She added to much applause, "We're going to fight until we get the vote for her on the floor of the House."
Pelosi said while passing Franklin D. Roosevelt Veterans V.I. Memorial Park on her way to the meeting, "I was reminded of what FDR said 75 years ago "'The Virgin Islands is part of the United States family.'"
Noting that Congress is working to "keep our promises to our men and women in uniform," Pelosi said, "On the battlefield, the military pledges to leave no soldier behind. As a nation, let it be our pledge that when they return home, we leave no veteran behind."
The pledge got a big hand from the many veterans taking advantage of the singular opportunity to hear the most powerful woman in the U.S. Congress address Virgin Islanders on issues affecting the territory, as well as the nation.
The audience represented a cross-section of young and old, with educators, small business owners and administrators, union leaders, a smattering of senators and government officials.
Pelosi spoke of the connection between small businesses and the need for veterans to get jobs."These are hard times in this economy. It is important for all government agencies to honor veterans in hiring. The SBA can create jobs," she said. "We need ownership equity, what the president just said."
Referring to the "Table of Twelve," the House and Senate members that make budget recommendations, Pelosi said the House Democratic Caucus had written the body this week that "The House Democratic Caucus is firmly committed to a deficit reduction plan that is big, bold, and balanced."
She said Saturday, "Creating jobs is the most effective way to reduce the deficit. Ask the SBA how they could have better access to capital. Consumers need to know how to better connect to the SBA. Creating jobs is the principal engine of job promotion. It's never been more urgent than now.
"We need to reignite the American dream, not let it become a dimmed dream," she said.
Along those lines, a reporter noted a letter to Obama in the September Harpers Magazine by George McGovern, former Democratic presidential candidate, U.S. Senator and congressman, where McGovern recommends bringing home the troops from Afghanistan now, closing military bases in the Arab world, and using the money saved to educate Americans.
Pelosi defended President Obama's schedule for bringing home the troops. She said there was "no plan in place for Afghanistan when Obama took office, in a war already waging for seven years."
Pelosi said she has visited Iraq and Afghanistan several times and she has seen improvements in the education of girls in Afghanistan. She lauded some of the work the government is doing there. "We talked to the poorest of the poor," she said. "We had a girls' night and we talked to women only who said they want education, but they need protection, security. They said 'we're ready.'"
America is ready, too, judging by the response Pelosi received when she said, "Nothing brings more money to the U.S. Treasury than the education of its people."
Veteran Romeo Malone came to the front of the room to greet Pelosi. "We veterans are the forgotten people," he said. "I waited 60 years to get compensation for injuries I got in the South Pacific in the Second World War. As of 2003, I am getting $123 a month for an ear injury. I was hospitalized for two years."
Pelosi listened intently and lamented that his situation wasn't unique. She noted the new GI Bill for the 21st Century which she said will provide a four-year college education for nearly 300,000 veterans enrolled in college.
Answering a question from a young woman in audience, Pelosi lighted up. This was clearly something close to her heart – women's rights.
She shared a story of her introduction to politics. "After I'd raised my family of five, I worked in the library in San Francisco as a library commissioner. Our mayor, Joseph Alioto, said he wanted to honor me in a presentation," she said.
"I told him no, I was just doing my job," Pelosi said. "I said was happy with that. He said no. He told me, 'You must use your power. You must get recognition for what you do,' so I did."
Pelosi told the young woman: "Follow your power. Be ready!"