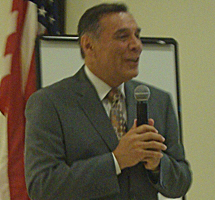 Knowing how to give your opponent what he wants can be a key to getting what you need in negotiations, former Ecuadoran president Jamil Mahuad told a crowd of more than 100 Friday at the University of the Virgin Islands St. Croix campus.
Mahuad was invited to take part in the school's Hispanic Heritage Month celebration in the Great Hall, where he was greeted by UVI President David Hall, other university officials as well as four members of the V.I. Senate. His two-hour talk focused on his successful effort to negotiate a peaceful resolution to a longstanding border dispute with Peru.
When Mahuad was elected president of Ecuador in 1998, the on-again, off-again border dispute was heating up again, with Peru's then-President Alberto Fujimori threatening to go to war over the issue.
Peru was traditionally a richer and militarily stronger country than Ecuador, Mahuad said, and finding a way to forestall military action was vital. The newly elected president also faced a splintered legislature, with none of the six parties holding a majority.
Mahuad was familiar with the negotiating theories of Harvard law professor Roger Fisher, who had written the best-selling "Getting to Yes" and "Beyond Reason: Using Emotions as You Negotiate." He called on Fisher, who came to South America to consult on the negotiations.
Fisher's work is based on the idea that there are five concerns that shape human relations, five sensitive issues that operate on the emotional level, not the rational level, and shape our reactions. They are:
appreciative – A negotiator can show appreciation, or understanding, of his counterpart's position and it doesn't cost anything.
affiliation – Finding and sharing common ground.
autonomy – Being free to make and influence decisions.
status – Knowing your position in a hierarchy.
role – Feeling that we have a life of purpose, and understanding what that purpose was.
When they first met, it was obvious to Mahuad that Fujimori, who had been president of Peru eight years, considered himself the senior, more important figure in the talks. For instance, Mahuad recalled that at the first meeting Fujimori drew out a sheet of paper on which he had written an agenda of what they needed to discuss. Mahuad felt a need to assert his autonomy, while at the same time showing appreciation for Fujimori's sense of status.
"I can't do that yet," Mahuad told the Peruvian leader – asserting his autonomy – "I'm not where you are yet" – affirming Fujimori's sense of status.
Throughout the talks Mahuad's immediate goal was to build a sense of affiliation between the two leaders. Similarly, he worked to create a sense of partnership with the legislatures. He knew if the lawmakers were asked directly how to resolve the border dispute, positions would harden and the impasse would become insoluble. Instead the legislators were asked to vote on the process, not the solution.
In the end, Ecuador ceded sovereignty of the disputed area to Peru, which then granted ownership of a small portion of the land back to Ecuador. For his efforts, Mahuad was a finalist for the Nobel Peace Prize.
Prior to Mahuad's talk, the audience was treated to performances by four cultural dance groups representing different Hispanic cultures.