Paul Devine of St. John Recycling was a man on a mission when he attended V.I. Waste Management Authority's meeting at the Battery on Thursday involving Community Enrichment Grants.
"We want that grant," Devine said.
St. John Recycling has received funding from Waste Management in the past, but the organization's request for a grant in the last cycle was denied. Cordell Jacobs, Waste Management's environmental programs manager, declined to be specific, but said there were issues with the application concerning the organization's budget.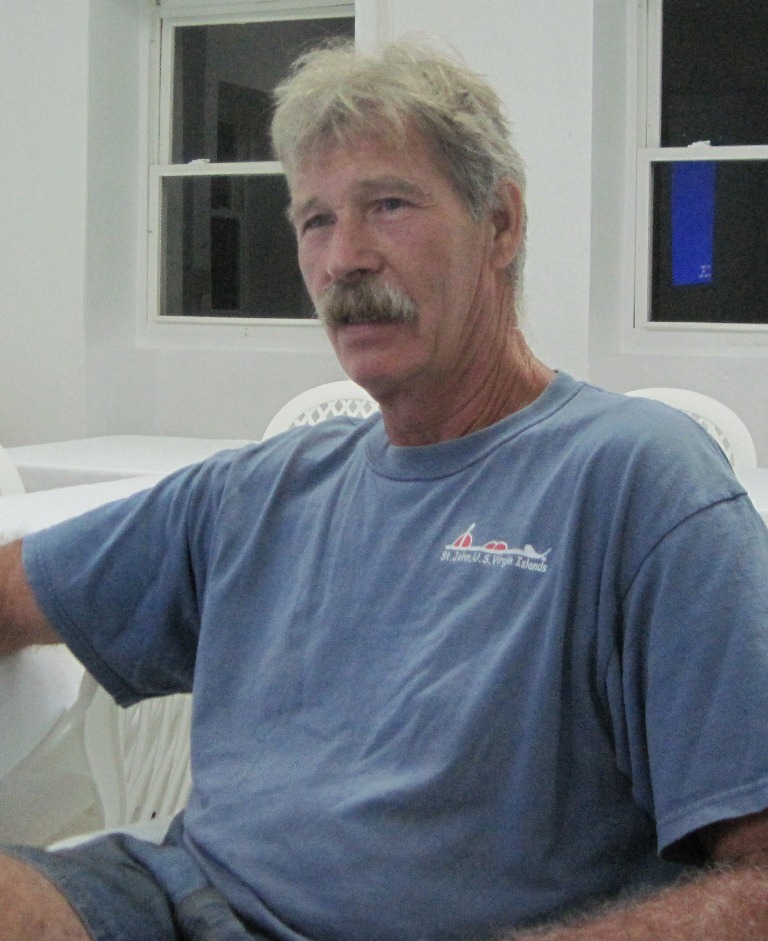 Devine was the only person to attend the meeting, and he had plenty to say about St. John Recycling's efforts at reducing the number of aluminium cans that must be shipped from St. John's Susanaberg transfer station to the Bovoni Landfill on St. Thomas.
He said that since the organization started keeping records in August, 2009, almost 1.5 million aluminium cans were sent to the recycler on St. Thomas. He said that two million cans a year come into St. John.
The all-volunteer organization wants Waste Management grant funding, so it can hire a driver to take the cans to St. Thomas, Devine said. He said that currently a volunteer takes the cans when he has a trip to make. He keeps the money paid by the recycler, but Devine said he usually comes out even because the cost of the trip is about the same as what the recycler pays.
Because the volunteer only makes the trip when he needs to for other reasons, Devine said the cans pile up.
"It's sketchy because if he doesn't have to go, he's not going to do it," Devine said.
St. John Recycling had been stashing the cans in a trailer at an Enighed Pond Marine Terminal side lot, but that area is in the midst of repaving, so they've been moved temporarily to a lot in Grunwald, Devine said. Ideally, St. John Recycling would have space at Waste Management's Susanaberg transfer station because it is more centrally located.
According to Devine, the organization's goal is to have Waste Management take over the recycling operation.
Jacobs said that Waste Management has $50,000 to disburse on St. John through its Community Enrichment Grants.
In the last grant cycle, Gifft Hill School received a $2,000 grant for environmental clean ups, but Sisterhood Agenda did not get the grant it applied for because building a stone wall as part of a beautification project was beyond the scope of the Community Enrichment Grant program, Jacobs said.
He had nice words for the Unitarian Universalist Fellowship of St. John. Using a Waste Management grant, the group published a book on eco-friendly ways to care for island homes called "Smart Guide to Island Housekeeping."
"They did a good job," Jacobs said.
Jacobs announced that the next electronic waste collection days would be Nov. 8 and 9. Hours are from 9 a.m. to 1 p.m. at the Winston Wells Ballfield on St. John.
Waste Management will hold Community Enrichment Grant meetings at Charlotte Amalie High School on St. Thomas and Waste Management's William's Delight office on St. Croix. Both are at 6 p.m. Friday.
To volunteer at St. John Recycling, call 693-9410. For more information on the grants, call Waste Management's Division of Environmental Programs at 777-3073 or 778-7657.