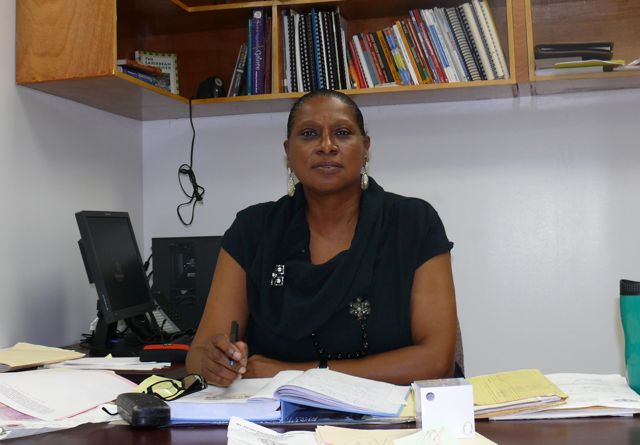 After giving students rule booklets for parents to sign and warning them the rules would be strictly enforced the next day, St. Croix Central High sent roughly 30 students home Wednesday for dress code and other infractions, angering some parents.
There will be a meeting with parents at the school Wednesday evening, where parents will have a chance to talk with school administrators about the school's rules and its actions.
"This morning some students … said they would not comply with the rules and called their parents," said Central High Principal Janasee Sinclair when reached in her office Wednesday morning.
The school had been repeatedly reminding students about the rules and regulations, going over them in June at the beginning of summer vacation, again at student orientation in August and several times since, Sinclair said.
Most students have complied, but Sinclair said a small number have refused to do so, creating a climate where the school had to make it clear they were going to strictly enforce the rules, or allow them to be broken at will, without any repercussions.
On Tuesday, the school had assemblies with each grade level, where they passed out booklets outlining the rules, telling students to take them home and have their parents sign them.
"Some of the students ripped it up and put it in the trash," she said.
According to Sinclair and school staff, a small number of students came to school Wednesday, belligerently refused to comply with the rules, and were not allowed in. Some students and parents dispute that account, saying they did not know they were in violation until after they were called to pick up their children.
Assistant Principal Lili Doctrine said about 30 students out of nearly 1,200 did not comply, emphasizing that for more than 98 percent of the student body, the school day went on as usual.
Infractions ranged from dress code issues—like not wearing the school uniform or not having a skirt of the proper length—to refusing to put away cell phones or take off headphones. All were "not doing what they were asked to do," Doctrine said.
"I understand financial hardship and we work with parents, but there is a way to go about it and a way not to go about it," Doctrine said. "These were the same students you speak to every day about the same infractions, so in no way should it be said this is something we suddenly did just today."
When some students were told they could not come to school that day, a few called their parents.
"Instead of telling their child to follow the rules, a few sided with their child, supporting them disobeying the rules," Sinclair said. Some called local radio and television stations, saying students were being locked out and a handful, about 10, showed up at the school and berated staff, she said.
At least one parent disputed the school's account, saying their child was caught by surprise and had no intention of violating any rules but was initially told she could not come to school that day.
"My daughter, a senior in her fourth year at the school, was not allowed in at first because they said the back of her skirt was too short," said a parent who declined to give her name. "She was not allowed to call me and they locked the gate so she could not enter and she was not allowed to use her cell phone and was not able to call me…. It was not until Wes Smalls with Channel 8 showed up that they opened the gate," she said.
Asked how her daughter had a skirt that was too short, the parent said it was the same skirt the girl had been wearing since the beginning of school several weeks ago and no one had said anything until Wednesday morning. Ultimately, the school had someone take out and resew the skirt hem and her daughter was not sent home, she said.
According to Sinclair, there was no lockout and the school gate remained open. The gate to the entrance to the school was shut, but as part of normal, daily operations, not to lock anyone out, she said.
Education Commissioner LaVerne Terry said Wednesday she supported Sinclair's action.
"The school did the right thing," said Terry, who was at the school already for a previously scheduled meeting with school administration. "And the vast majority of students came to school and did exactly what they were supposed to do, so we shouldn't let a few students paint the entire student body with one broad brush," she said.
Central is holding a "welcome parents" meeting 5:30 p.m. Wednesday in the school's gymnasium. Along with meeting their child's teachers and school administrators, they will be able to ask about the school's rules and regulations, Sinclair said.
Parents can call the school at (340) 778-0123 with additional questions or concerns.