At Dockside Bookshop we are constantly striving to meet our customer's needs. Take a look around the store and you'll notice that we rearranged a few sections to add the Teacher's Corner. This new section features many educational items like charts, maps, games, CDs and DVDs to help our students learn, grow and develop.
Dockside Bookshop – Your Caribbean Bookstore
Our new hours are Monday – Friday, 8am to 6pm
Dockside Book List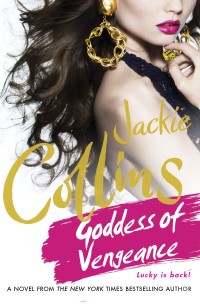 Hardcover Fiction
"Goddess of Vengeance"
Jackie Collins
$26.99
"The 73-year-old, chick lit doyenne of raunchy romance presents No. 27 with a revival of her most popular character, Lucky Sanangelo. But as kick-ass as the now 50-something Lucky is—operating ancient patriarch Gino's Las Vegas hotel empire as it comes under siege from a menacing royal brat with pervy sexual proclivities and a nasty drug habit—the packed plot belongs to the next generation: Lucky's 17-year-old mini-me daughter, Max; hot-and-handsome oldest son, Bobby; and all the lovers and losers the spoiled duo cycle through with giddy abandon. There's never a doubt Collins's cast of strong women, and the guys who chose them, will ferret out true love and survive. But that's not entirely the point in this delicious, manic tale of rich people behaving badly, getting everything they deserve, and leaving enough loose ends to warrant an inevitable sequel."—Publishers Weekly
Hardcover Fiction
"Flesh and Bones"
Kathy Reichs
$26.99
Kathy Reichs—No. 1 New York Times bestselling author and producer of the FOX television hit Bones—returns with a riveting new novel set in Charlotte, North Carolina, featuring America's favorite forensic anthropologist, Dr. Temperance Brennan.
Just as 200,000 fans are pouring into town for Race Week, a body is found in a barrel of asphalt next to the Charlotte Motor Speedway. The next day, a NASCAR crew member comes to Temperance Brennan's office at the Mecklenburg County Medical Examiner to share a devastating story. Twelve years earlier, Wayne Gamble's sister, Cindi, then a high school senior and aspiring racer, disappeared along with her boyfriend, Cale Lovette. Lovette kept company with a group of right-wing extremists known as the Patriot Posse. Could the body be Cindi's? Or Cale's?
At the time of their disappearance, the FBI joined the investigation, only to terminate it weeks later. Was there a cover-up? As Tempe juggles multiple theories, the discovery of a strange, deadly substance in the barrel alongside the body throws everything into question. Then an employee of the Centers for Disease Control and Prevention goes missing during Race Week. Tempe can't overlook the coincidence. Was this man using his lab chemicals for murder? Or is the explanation even more sinister? What other secrets lurk behind the festive veneer of Race Week?
A turbocharged story of secrets and murder unfolds in this, the fourteenth thrilling novel in Reichs's "cleverly plotted and expertly maintained series" (The New York Times Book Review). With the smash hit Bones about to enter its seventh season and in full syndication—and her most recent novel, Spider Bones, an instant New York Times bestseller—Kathy Reichs is at the top of her game.
"Red Wolf"
Liz Marklund
$15.00
A journalist is murdered in the frozen white landscape of a northern Swedish town. Annika Bengtzon, a reporter at a Stockholm-based tabloid, was planning to interview him about a long-ago attack against an isolated air base nearby, and now she suspects that his death is linked to that attack.
Against the explicit orders of her boss, she begins to investigate the event, which is soon followed by a series of shocking murders. Annika knows the murders are connected. At the same time, she begins to suspect that her husband is hiding something, and nothing can counteract the loneliness that has crept into her life.
Behind everything lurks the figure of the Red Wolf, a cold-blooded killer with the soul of a lover. In the end, she must discover the truth not only about the murders but also about the lies that are destroying her own family.
Nonfiction – Cooking and Wine
"Bobby Flay's Bar American: Cookbook"
Bobby Flay
$35.00
When Bobby Flay looks at a map of the United States, he doesn't see states—he sees ingredients: wild Alaskan king salmon, tiny Maine blueberries, fiery southwestern chilies. The Food Network celebrity and renowned chef-restaurateur created his Bar Americain restaurants as our country's answer to French bistros—to celebrate America's regional flavors and dishes, interpreted as only Bobby Flay can.
Now you can rediscover American cuisine at home with the recipes in Bobby Flay's Bar Americain Cookbook. Start with a Kentucky 95—a riff on a classic French cocktail but made with bourbon—and Barbecued Oysters with Black Pepper–Tarragon Butter. Choose from sumptuous soups and salads, including a creamy clam chowder built on a sweet potato base, and Kentucky ham and ripe figs over a bed of arugula dressed with molasses-mustard dressing. Entrees will fill your family family-style, from red snapper with a crisp skin of plantains accompanied by avocado, mango, and black beans to a host of beef steaks, spice-rubbed and accompanied by side dishes such as Brooklyn hash browns and cauliflower and goat cheese gratin. Bar Americain's famed brunch dishes and irresistible desserts round out this collection of America's favorite flavors.
Bobby also shares his tips for stocking your pantry with key ingredients for everyday cooking, as well as expert advice on essential kitchen equipment and indispensable techniques. With more than 110 recipes and 110 full-color photographs, Bobby Flay's Bar Americain Cookbook shares Bobby's passion for fantastic American food and will change the way any cook looks at our country's bounty.
Children's Fiction
"One Love"
Cedella Marley
$16.99
Adapted from one of Bob Marley's most beloved songs, One Love brings the joyful spirit and unforgettable lyrics of his music to life for a new generation. Readers will delight in dancing to the beat and feeling the positive groove of change when one girl enlists her community to help transform her neighborhood for the better. Adapted by Cedella Marley, Bob Marley's first child, and gorgeously illustrated by Vanessa Newton, this heartwarming picture book offers an upbeat testament to the amazing things that can happen when we all get together with one love in our hearts.
TOP SELLERS FICTION
RED HERRING WITHOUT MUSTARD–$7.99
by Alan Bradley
LOST EMPIRE–$9.99
by Clive Cussler
PAINTED LADIES–$7.99
by Robert Parker
AMERICAN ASSASSIN–$9.99
by Vince Flynn
THE GIRL WHO PLAYED WITH FIRE–$7.99
by Steig Larsson