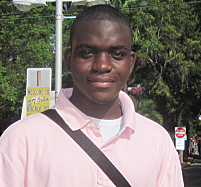 St. John resident Aleek Thomas has long had a good idea where he wants to be as an adult, and that is on the water.
"I want to be a marine mechanic and a boat captain," the 16-year-old Eudora Kean High School junior said.
Thomas has always been interested in boats and things mechanical. "I loved boats since I was small, and I always wanted a career working with my hands," he said.
With that goal in mind, he participated this summer in St. John Community Foundation's four-week Life Skills and Career Development program funded by the V.I. Labor Department.
"He knew going into it that he had some skills and interest and he had identified people working in that field. He knew what he wanted," Community Foundation Director Celia Kalousk said.
Thomas said the program helped him learn "good traits" for being on the job.
"What employers would expect, and how to deal with obstacles," he said.
As part of that program, he spent a half a day job shadowing at Love City Car Ferries, one of the companies that runs the barge route between St. John and St. Thomas. "I got a chance to steer the barge," he said.
While that was interesting , he said the most exciting event in his life came when he got to "drive" a friend's boat. He doesn't have a boat of his own, but said, with a smile, that he wouldn't turn down any offers if someone wanted to give him one.
After graduation from high school, Thomas said he plans to attend technical school on the mainland. The Marine Mechanics Institute at Florida Universal Technical Institute is a big possibility, he said.
When he's finished with school on the mainland, he plans to return home to St. John to get a job.
He said he often "volunteers" to help the drivers with their jobs at Penns' Trucking Services on St. John.
He doesn't have much free time since commuting to St. Thomas to school is time consuming, but Thomas said that once he got used to getting up early, it wasn't a problem.
He loves school because it gives him an opportunity to meet new people. Thomas said he likes studying English best because it gives him a chance to express himself.
With what free time he does have, he participates in the youth group at St. John Methodist Church, heads out to the beach, plays basketball with friends at Pine Peace basketball court or the court at Gifft Hill School and plays on the Kean school basketball team.
Like many St. John youths, he was born at Roy L. Schneider Hospital on St. Thomas but raised on St. John.
He has two brothers and three sisters, but he said he's the only one still home with his mother, Lucille Parsons. His father, Myron Thomas, also lives on St. John.
His mother called him a great kid who is kind-hearted and passionate about how he expresses his love for his family.
"He's just awesome," she said.