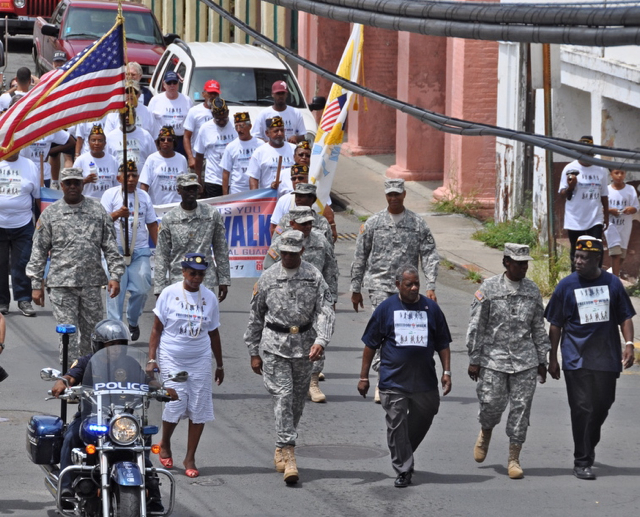 Every day when she wakes up, every night as she falls asleep, Ophelia Walters still feels the pain as her thoughts go to her daughter, Claudia Walters-Sutton, who was working as an accountant in the World Trade Center's North Tower in New York on the 101st floor on that horrific day when a terrorist attack brought the building down.
"Time has sped by rapidly and it gets easier over time," said Walters, a St. Croix resident. "The pain will always be in my heart but with God's help, friends and family, I get by with their prayers and thoughts – especially today."
Walters and six other locals who lost family members on 9/11 were recognized at a Patriot Day 9/11 Commemoration and Freedom Walk Sunday.
In the heat and humidity of late morning, the local Freedom Walk began at Basin Triangle and went along King Street to the Bolling-Baldwin-Rohlsen Hall at No. 2 Hospital Grounds in Christiansted.
A V.I. Police Department motorcycle led the way with a squad car and the Rain Riders motorcycle group following. Delegate Donna Christensen walked along with other officials. About 100 members of the V.I. National Guard, the American Legion and Auxiliary, and community members walked along, with some singing the "Battle Hymn of the Republic." A V.I. Fire Services truck brought up the rear.
A banner was carried that read "Freedom Walk – America Supports You – V.I. National Guard."
Talking while he walked, Vietnam veteran Phil Kimmel said Americans need to do all they can to preserve freedom. A former Crucian now living in Tuscon, Ariz., Kimmel said the walk was a good way to show patriotism.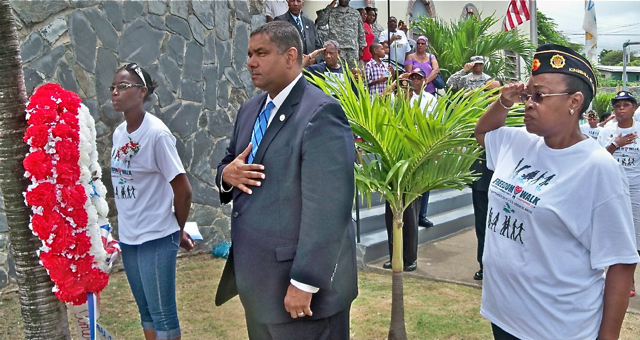 The ceremony began indoors at Myron G. Danielson Post 85 with the clanging bell of the "Four Fives" mournfully ringing out. The striking of the Four Fives was the symbolic last ringing of a fire bell for deceased firemen. Capt. Lorenzo Acosta of V.I. Fire Services rang the bell to honor the firefighters who died on 9/11.
Maj. General Renaldo Rivera said the military has been at war for 10 years and more than 700 local guardsmen have served overseas in that time.
"Never before has America asked so much of volunteers," Rivera said. "Today we remember the past. We strive to work for a strong, secure country. The Guard always stands ready to be called to service."
Gov. John P. deJongh Jr. was on hand to mark the ceremony. He spoke of the direct impact that Sept. 11 has made on the lives of all U.S. citizens.
"Sept. 11 taught us to no longer think only of ourselves," deJongh said. "We now look at the world beyond us."
He said people must look beyond hatred and reach out to see what they can do to help others.
Vielka White's mother, Maudlyn White of the National Guard, died in the attack on the Pentagon where she was working.
"My mother didn't die in vain," said White. "It was for our freedom. I think about all the memories I had with her when I was small. If I could tell her just one thing today, I would tell her that I love her and she's my hero."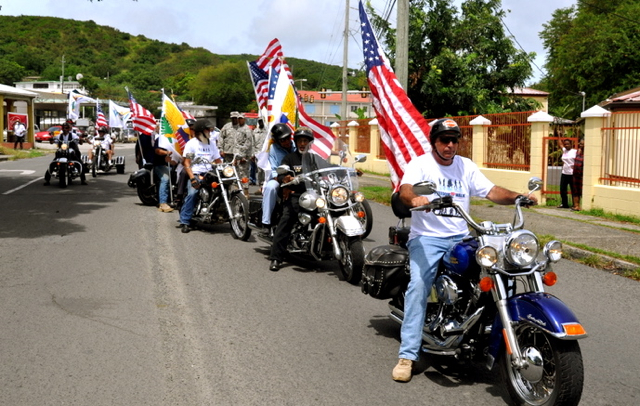 The ceremony concluded with deJongh, White and Annie Day Henry, commander of Enrique Romero Nieves Post 102, placing a red, white and blue flowered wreath on the trunk of a palm tree on the front lawn of the Legion hall as the Army National Guard Firing Squad fired a 21-gun salute in the background.
Before the walk began, Delegate Christensen commented on Sept. 11.
"I remember it being an incredibly beautiful morning, I didn't go to my office in Washington that day because I was going to be speaking at an event," she said. "My older daughter called and told me that a plane had hit the towers, and immediately, I turned around and went home. Afterward, everyone (including the president) kept saying, 'let's get back to normal' and I remember thinking 'No, let's make our country better.' We still have a lot of work to do but hopefully the 10th anniversary will have an effect and bring us together again."
Members of Bramley Berkley Post 133 in Frederiksted and Enrique Romero Nieves Post 102 in Peter's Rest also attended the ceremony, as well as members of Myron G. Danielson Post 85.