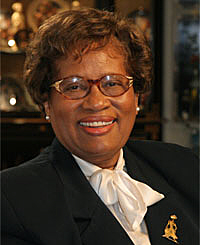 The Fourth Annual CERC Health Disparities Institute on Oct. 20-21 will be highlighted by a keynote address from former U.S. Surgeon General Dr. M. Joycelyn Elders.
Held at the Marriott Frenchman's Reef and Morning Star Beach Resort on St. Thomas, the institute is expected to attract public health scientists, pharmacists, nurses, allied health professionals, physicians, social workers, health policy makers, health educators, researchers, and public and community health leaders.
Its goal is to work toward eliminating health disparities in the U.S.V.I. and the Caribbean. The focus will be on collaborative models and approaches from the clinical, research and community arenas that integrate all levels of health care providers.
Elders will speak on "The Importance of Place in Improving Health Outcomes." She was appointed surgeon general in 1993 by President Bill Clinton after 25 years of practice as a pediatrician and research scientist.
Elders was born to parents who were sharecroppers in 1933. After college, she enlisted in the Army and trained in physical therapy. After her discharge in 1956, she enrolled at the University of Arkansas Medical School on the G.I. Bill. She began her medical career at the University of Minnesota as a pediatric intern.
Since her stint as surgeon general, she has served on the faculty of the Arkansas Children's Hospital at the University of Arkansas as a professor of pediatric endocrinology. Elders is now professor emeritus and remains active in public health education.
Online registration is available from the CERC website.