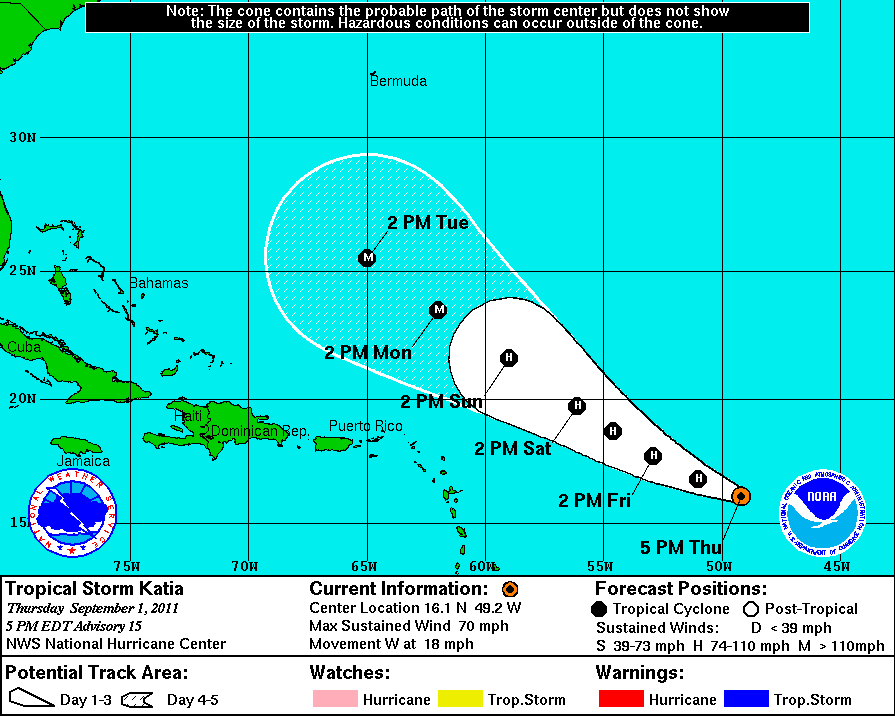 Hurricane Katia weakened slightly Thursday back to tropical storm status, but meteorologist Ernesto Morales at the National Weather Service in San Juan expects the storm to again strengthen to hurricane status.
Currently, Morales thinks the biggest problem for the Virgin Islands will be high surf with rip currents starting Saturday morning. Offshore seas will reach nine to 10 feet, he said.
Because of these conditions, he's advising boaters to stay in port.
The storm track is a tad closer than it was Wednesday, but Morales said it should pass 400 miles to the northeast of the northern Virgin Islands around 2 p.m. Monday as a Category 3 hurricane with winds of 111 mph or greater.
"It's a big gap between us and the system," he said.
Katia was on a west-northwest track but now is heading west at 70 mph. Morales expects the storm to resume its west-northwest track within 24 hours but urged residents to keep an eye on the storm because previous storms like Hurricane Luis in 1995 and Hurricane Earl in 2010 showed similar patterns. The Virgin Islands were hit by both of those.
If the storm delays the start of its west-northwest track, Morales said the Virgin Islands could get some rain.
Morales said hurricane winds extend outward 25 miles, with tropical storm force winds reaching 140 miles from the center of Katia. The barometric pressure stands at 990 millibars.
It is moving west at 18 mph.
As of the 5 p.m. update from the National Hurricane Center, Katia was located 930 miles east of the northern Leeward Islands. It was centered at 16.1 degrees north latitude and 49.2 degrees west longitude.
Morales urged residents to keep an eye on the storm over the Labor Day weekend.