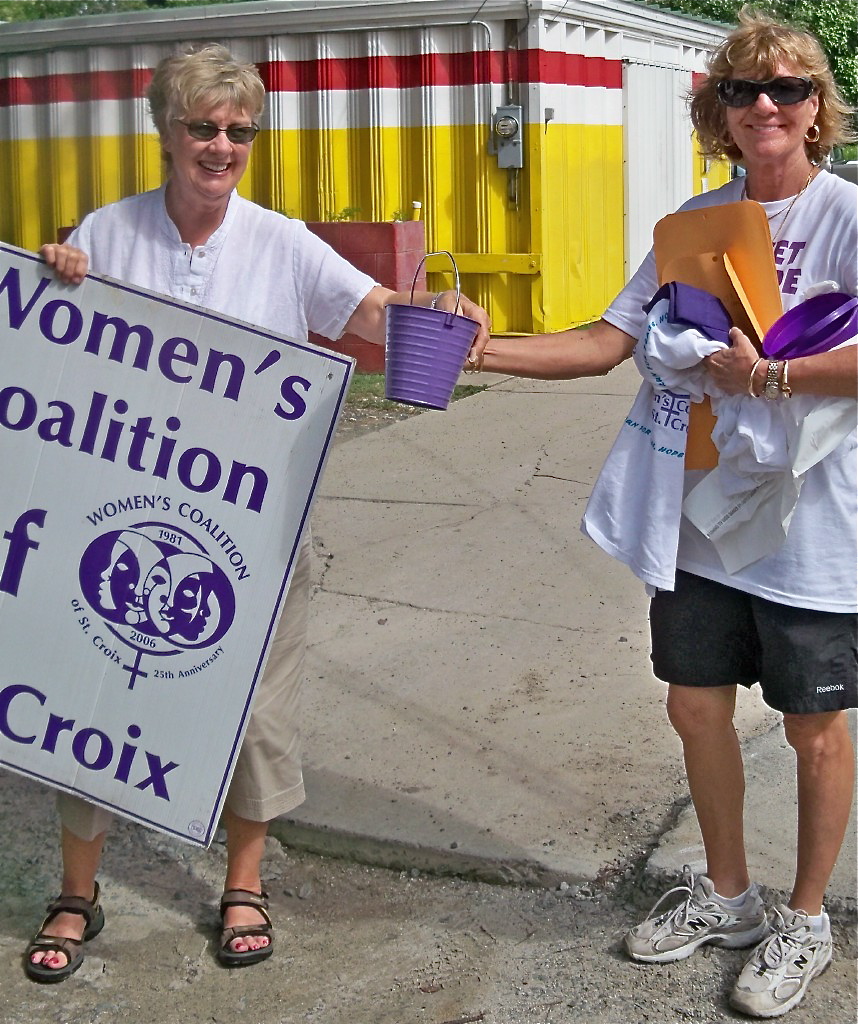 Volunteers worked across St. Croix Saturday to help the Women's Coalition crisis center recover from a fire that damaged its building two weeks ago.
Shoppers at Plaza Extra East and West, Cost U Less, Food Town and drivers at Sunny Isle Shopping Center intersection were given the opportunity to give their support to the Women's Coalition, which for 30 years has worked to end violence against women and children.
"We will need a lot of support with the long haul," said Mary Mingus, co-director of the coalition. "It's going to be months and months until we are back on our feet."
Volunteers gathered at the coalition's Closet to Closet thrift store in Peter's Rest, where co-director Clema Lewis and volunteer Philippa Forward gave out purple buckets, purple ball caps, coalition T-shirts, posters, and supplies.
The 40 volunteers, who were taking two-hour shifts at the various locations, were labeled "the bucket brigade."
"I'm volunteering today because this whole thing stinks," said Nancy Ayer, former board member. "And I don't mean just the smell of smoke."
Mingus said she is very thankful to the people who have stopped by the children's center and donated cash and checks. Lewis said she is very pleased that people from St. Thomas and St. John are calling to see how they can help.
"We're in the business of restoring lives and now we need help in restoring our facility," Mingus said as she scurried around organizing volunteers. "It's tough and it's not going to be an easy ride."
She said Saturday was just the beginning of the fundraising events the coalition is planning.
Viviana Cohen, new manager of Closet to Closet, was optimistic about the situation.
"Who knows … we lost a lot, but we may gain in the long run," Cohen said. "We sure won't surrender."
Mingus said the extent of the damage has not been determined yet by the insurance company.
The Christiansted crisis center building will remain closed indefinitely, but its services have been moved to the nearby Alice Pfaelzer Children's Center, the bright yellow building with blue trim at the corner of East and King Cross streets.
Counseling services are available at the center from 8:30 a.m. to 4 p.m. To make donations call 340-773-9272 or stop by Closet to Closet. The Children's Center's telephone number is 340-773-9222.