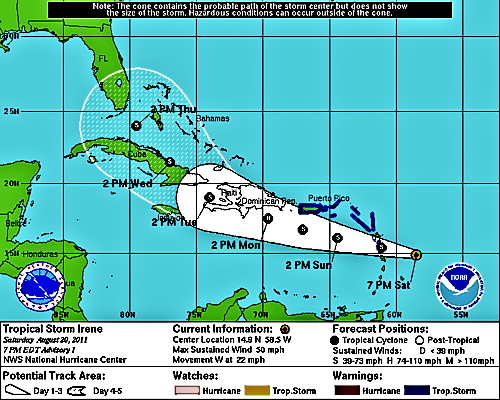 The tropical weather system approaching the U.S. Vrgin Islands was upgraded to Tropical Storm Irene by the National Hurricane Center at 7 p.m. Saturday, skipping over the designation of tropical depression.
A tropical storm warning has been declared for the territory. According to the National Hurricane Center's glossary, a tropical storm warning is, "An announcement that tropical storm conditions (sustained winds of 39 to 73 mph) are expected somewhere within the specified area within 36 hours."
Irene's winds are at 50 mph, with tropical storm force winds extending outward 120 miles north and east of the center.
As of 7 p.m. Saturday, Irene was 460 miles southeast of St. Croix. The center is expected to pass 120 miles south of St. Croix Sunday at 2 p.m. However, Krizia Negron, a meteorologist at the National Weather Service in San Juan said Irene will start sending rain and gusty winds to the Virgin Islands Saturday night. Conditions get worse over night and into Sunday.
She cautioned that a wobble to the north in the storm's path could mean increased winds, and urged residents to be prepared.
The National Hurricane Center forecasts that Irene will strengthen during the next 48 hours and could become a hurricane on Monday.
Rainfall of four to seven inches is expected across the territory with some isolated areas getting up to 10 inches, Negron said.
St. Croix will see the worst of the wind.
"Tropical storm force winds will approach St. Croix," Negron said, referring to winds of over 39 mph with higher gusts.
St. Thomas and St. John will also see wind gusts that could reach tropical storm force strength of 39 mph.
The National Weather Service issued a flash flood watch for the Virgin Islands starting Sunday morning. It will remain in effect until Monday afternoon. A flash flood watch means conditions are favorable for heavy rain that may lead to flooding. The heavy rain could also cause mudslides in areas of steep terrain.
A small craft advisory was issued for the territory.
A U.S. Air Force Reserve hurricane hunter aircraft flew into the tropical wave Saturday afternoon. Negron said crews found a closed circulation, which resulted in the National Hurricane Center giving the storm a name.
Irene is moving west at 22 mph. It's centered at 14.9 degrees north latitude and 58.5 degrees west longitude. The barometric pressure stands at 1006 millibars.
Another wave behind Irene is expected to develop, but current computer models take it northeast of the territory.